In industries where economic revitalization depends on critical infrastructure like mines, railways, tunnels, bridges, power stations, and more, front-line staff work mainly outdoors and sometimes extended shifts to catch up with the project progress. In order to ensure uninterrupted communication within teams, it is essential for communication devices to have sufficient battery life.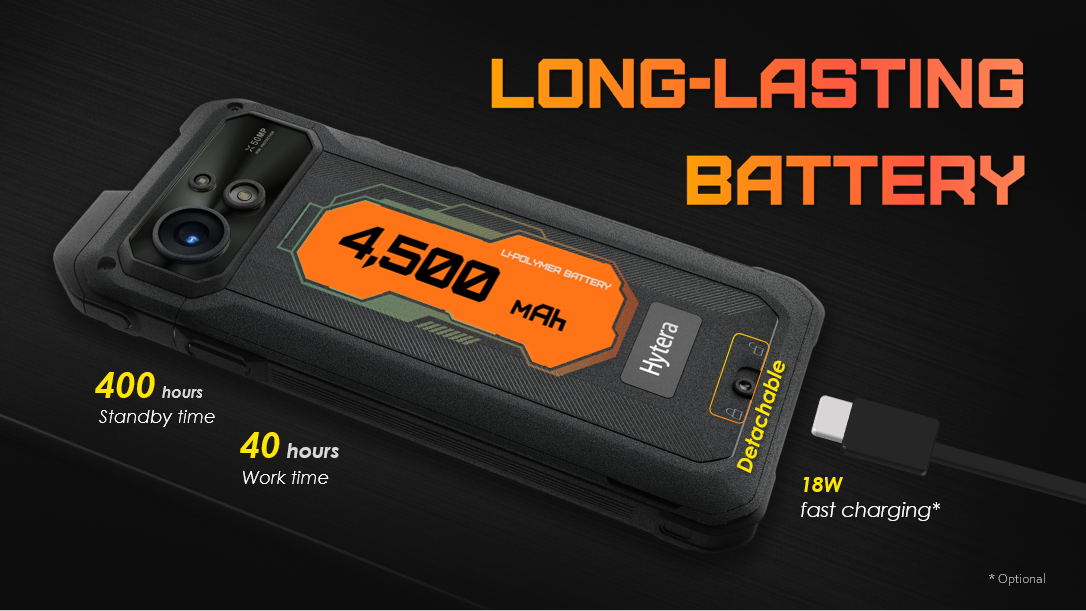 Extended Battery Life
The PNC460 XRugged Smart Device is equipped with a robust 4,500 mAh Li-polymer battery, delivering an unprecedented level of standby time—up to 400 hours. With this remarkable capacity, it ensures that your device remains powered for extended periods. In fact, it offers an impressive working time of up to 40 hours, even with a typical duty cycle. This means that you can rely on it for over two days on a single charge, eliminating concerns about running out of power during your busy day.
Unleashing the Power of a Detachable Battery
In addition to its impressive capacity, the PNC460 features a detachable battery. This convenient design allows users to easily remove the battery and swap it for a fully charged one, providing an alternative to power banks. By having spare batteries readily available, you can extend the device's battery life indefinitely, ensuring uninterrupted communication whenever you need it.
Effortless Charging and Rapid Replenishment
The PNC460 includes a built-in Type-C port, making it convenient for you to charge the battery. With fast charging technology, the PNC460 can reach a full charge in just 2.5 hours. This means that a mere one-hour charging session can provide you with 16 hours of continuous communication, keeping you connected throughout your busy schedule.
The Power of the Hytera Desk Charger
To further optimize your battery life management, the PNC460 is compatible with the Hytera desk charger. This innovative charger allows you to simultaneously charge the PNC460 and a spare battery. By utilizing this feature, you can effectively double your battery life with a single charging session, ensuring you are fully prepared for the demands of the next workday.
Maximize Your Device Battery Life Today
By implementing these strategies, you can maximize the battery life of your PNC460 and ensure seamless communication for your team. With its extended standby and working time, a detachable battery, fast charging capabilities, and the convenience of the Hytera desk charger, the PNC460 is designed to meet the demanding needs of industry professionals.
For more information about Hytera PNC460 XRugged Smart Device, please visit: https://www.hytera.com/en/product-new/lte-broadband/poc-radio/pnc460.html