Written by PttCn Radio Assessment Lab
At the 2019 Critical Communications World (CCW) event, Hytera showcased the smart PoC radio PDC550. PDC550 supports both DMR narrowband and broadband calls.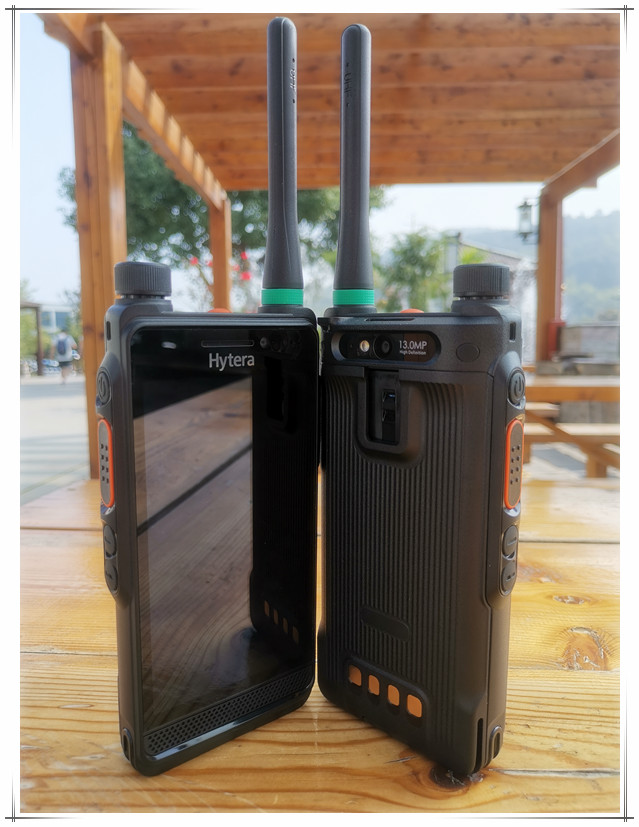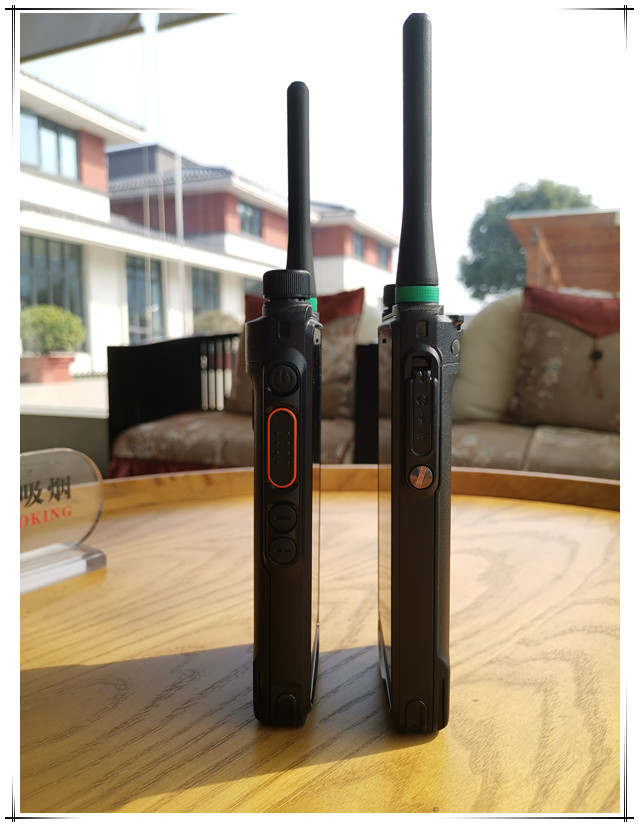 I have obtained two PDC550 PoC radios recently and would like to share with you my using experience.
Hytera PDC550 package in black is simple and compact. It includes a radio, an antenna, a charger, and a belt clip. The installation is also simple. The following figure shows the overall looking.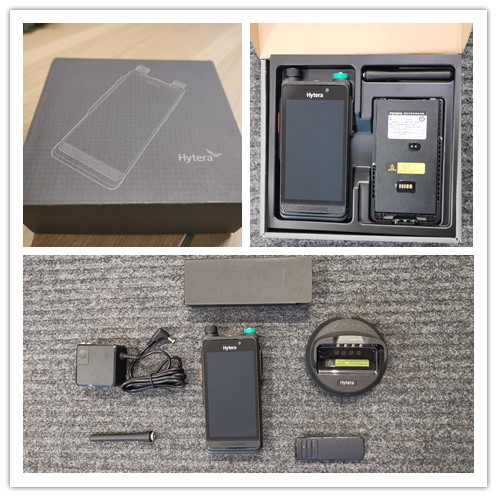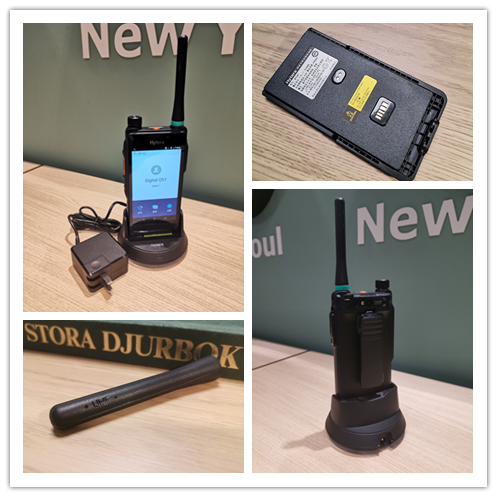 PDC550 is characterized by the matte texture and two-color injection molding body. The radio is solid and elegant, and provides great tactile hand feeling. When you hold the radio in one hand, the position of the PTT key is just right for your thumb, ensuring smooth operations.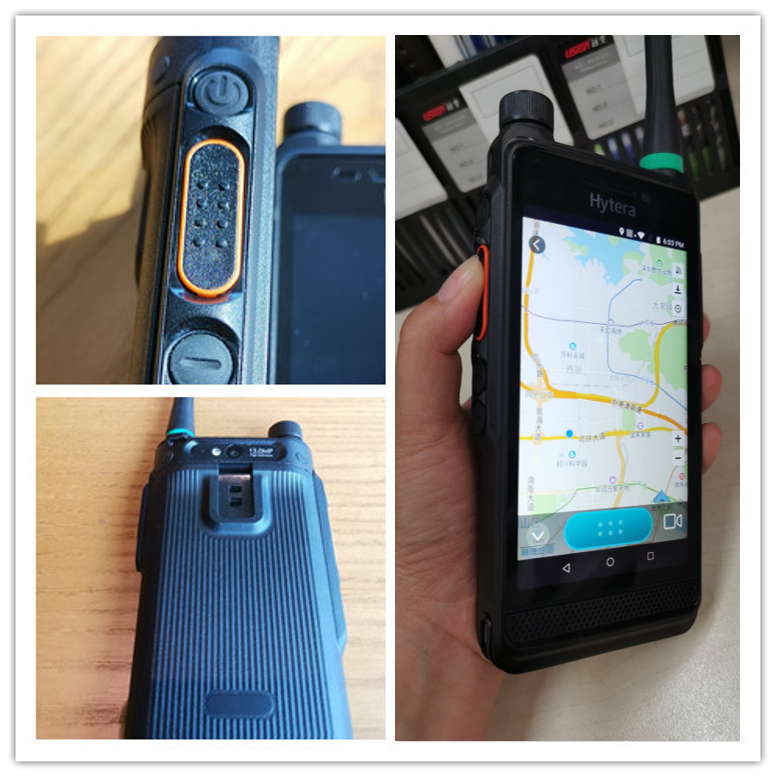 PDC550 has unique design in details, which shows Hytera's great ingenuity.
The volume function and the channel switching function are integrated into one button, leaving more space on the top for easier operation of the emergency button.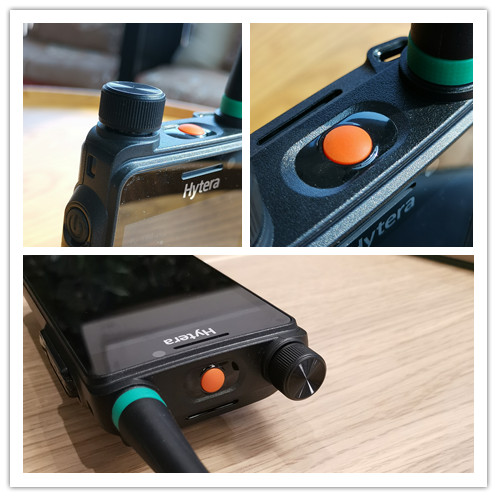 A colored ring is available at the bottom of the antenna. You may select any of the four colors to easily manage multiple groups.
Secure belt clip design. Different from the common radios that secure belt clips with screws, Hytera PDC550 adopts a smarter design. To install the belt clip, users need to first remove the battery, insert the belt clip into the battery inner side, and reinstall the battery. Compared with the conventional method, this design is more convenient and no tools required.
As a high-end, large-screen smart PoC radio, PDC550 is configured with a 5-inch HD industrial-grade touchscreen with a resolution of 1280×720. The multi-touch screen uses the third-generation Corning Gorilla Glass that is visible under strong light and supports operations with gloves and wet hands.
Side keys 1 and 2 and the emergency key are programmable keys. Pressing the keys in a short time or a long time can trigger different functions. The following functions can be set via the app in the radio:
Zone switching, emergency alarm, scrambling/encryption, power adjustment, mute/ringing adjustment, monitoring, network disconnection, scanning, camera, audio recording, screen capture, covert mode, etc. Compared with traditional radios that require professional programming software to set programmable keys, Hytera PDC550's programmable keys are much more convenient.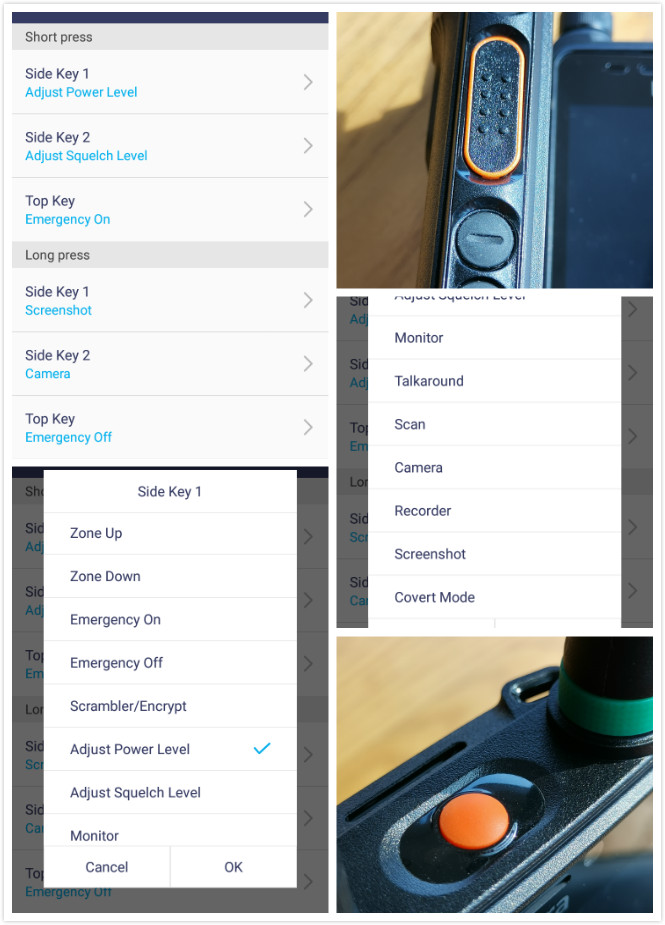 PDC550 is IP68 rated. When we soaked PDC550 in water, it still worked normally.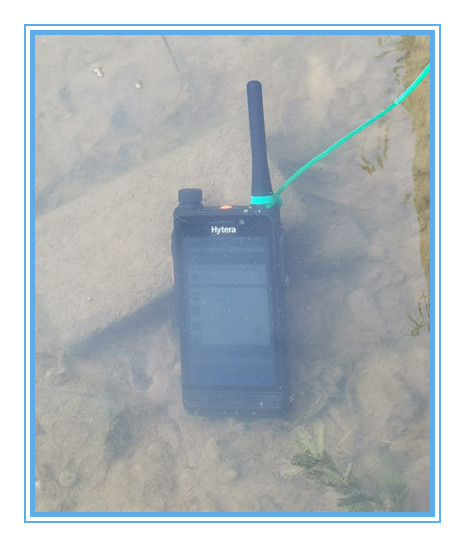 Hytera PDC550 comes with a standard 2400 mAh (optional 3500 mAh) battery, and the tested standby time is 45.5 hours (with 5% remaining power). When PoC communication software is enabled, to maintain the radio is always active for data receiving in real time, the PoC radio must keep alive link with the server. Under such condition, the tested standby time is 23 hours, meeting users' long working hour requirements in outdoor areas.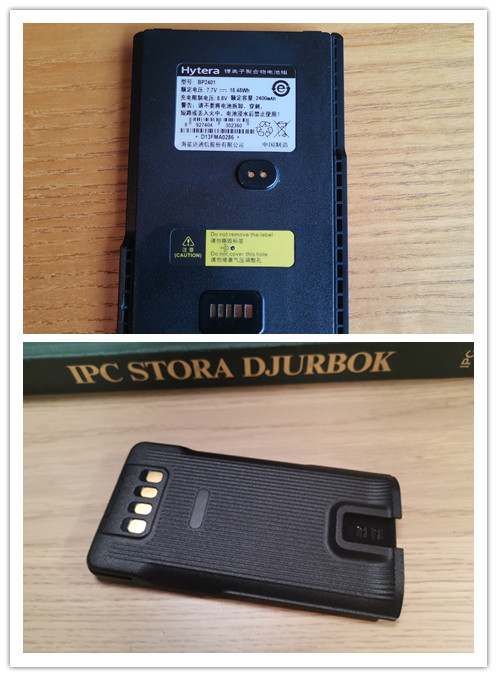 II. Professional Narrowband Radio Capabilities
Hytera PDC550 supports 136-174MHz, 350-400MHz and 400-470MHz frequency. And it enables digital and analog Direct Mode Operation(DMO) and Repeater Mode Operation(RMO) functions. The tested audio is clear and authentic. When two radios are getting close, no squealing sound is made. PDC550 uses dual-microphone noise reduction design to realize powerful voice recognition. It can accurately identify the user's audio, and suppress noise in a noisy environment.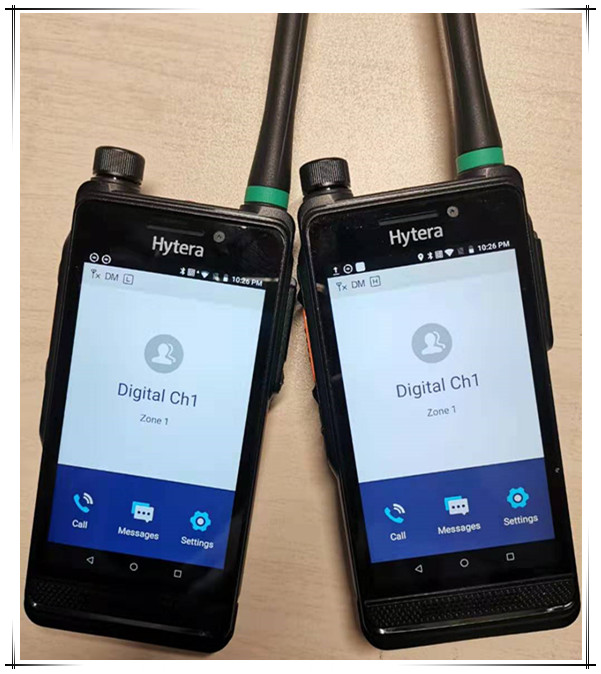 Programming can be performed through settings on PDC550, which is much more convenient than that of traditional radios. The radio's standby frequency can be changed at anytime.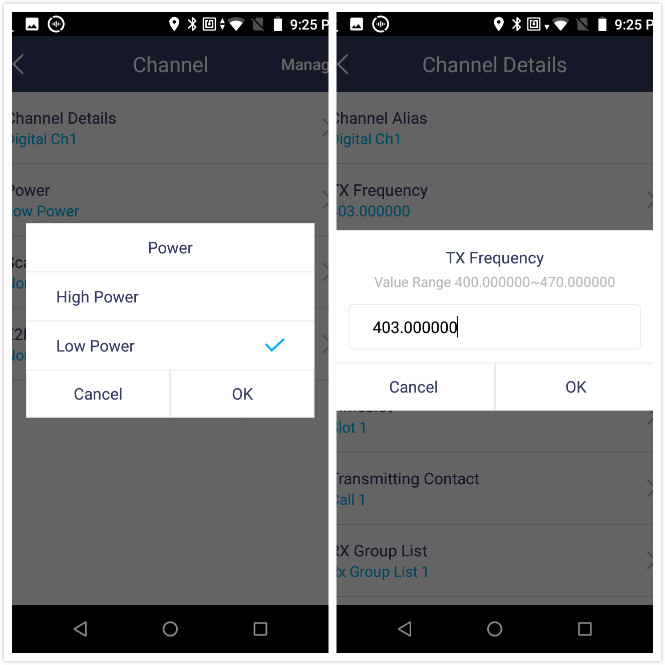 In DMR mode, PDC550 can send short messages to a group or an individual with narrowband network. The operation interface is similar to a mobile phone's short message interface. Shortcut of sending predefined short messages is also supported. It is convenient to communicate with others even without public network.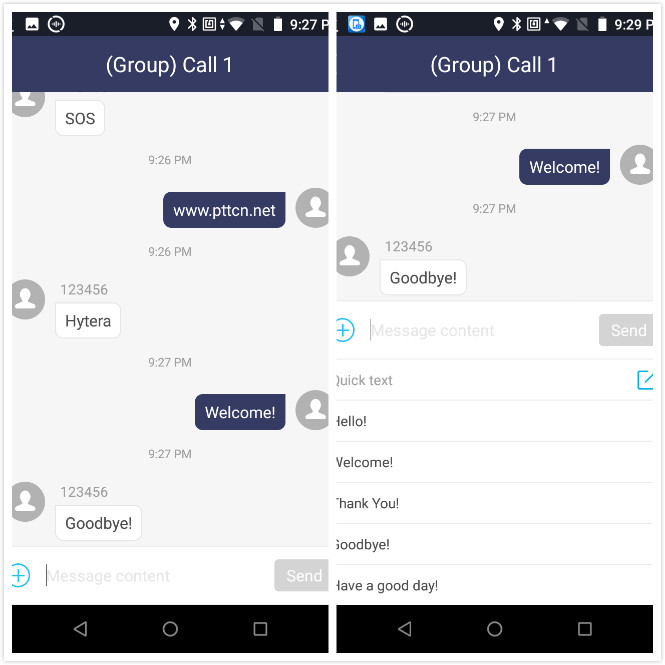 DMR outdoor test 1: test on coverage in residential area
We selected a residential compound in Nanjing, China. Buildings in this compound are orderly distributed, and the total area is 0.6 km × 0.6 km. All the buildings have three floors. We carried out connection tests at each of the four gates (north, east, south, and west, with the north gate as the fixed point). With low TX power, the PDC550's audio quality was 59. That is to say, in DMR mode, PDC550 can completely keep effective communications in this residential compound.
DMR outdoor test 2: test on working distance
We selected WenJing West Road (in Nanjing, China) for a test on the working distance of the radio from west to east. This road has heavy traffic, and most buildings alongside have three to six floors. PDC550 was tested that its normal communication distance between two radio is about 1.9km with low TX power and about 3.3km with high TX power. In a word, concerning the communication ability, Hytera PDC550 in DMR mode is comparable to professional two-way radios.
III. Professional Digital Trunking Capabilities on Public Networks
PDC550 has the Hytera's software installed to support the public network trunking mode. Users can set priority of the DMR or PoC (Push-to-talk over cellular) functions on the radio conveniently.
In PoC mode, PDC550 supports half-duplex individual calls, full-duplex individual calls, audio group calls, video individual calls, multi-party video calls, broadcast calls, and temporary group calls, etc.

Over the LTE network, PDC550 supports multimedia messaging and can send texts, images, videos, recordings, location information, files, and SOS messages to a group or an individual. The UI design is similar to that of WhatsApp. Users can easily get familiar with it.

With Hytera's professional dispatch platform, PDC550 can implement professional dispatch functions, such as audio dispatching, image and video uploading, and location tracking to meet various dispatch requirements.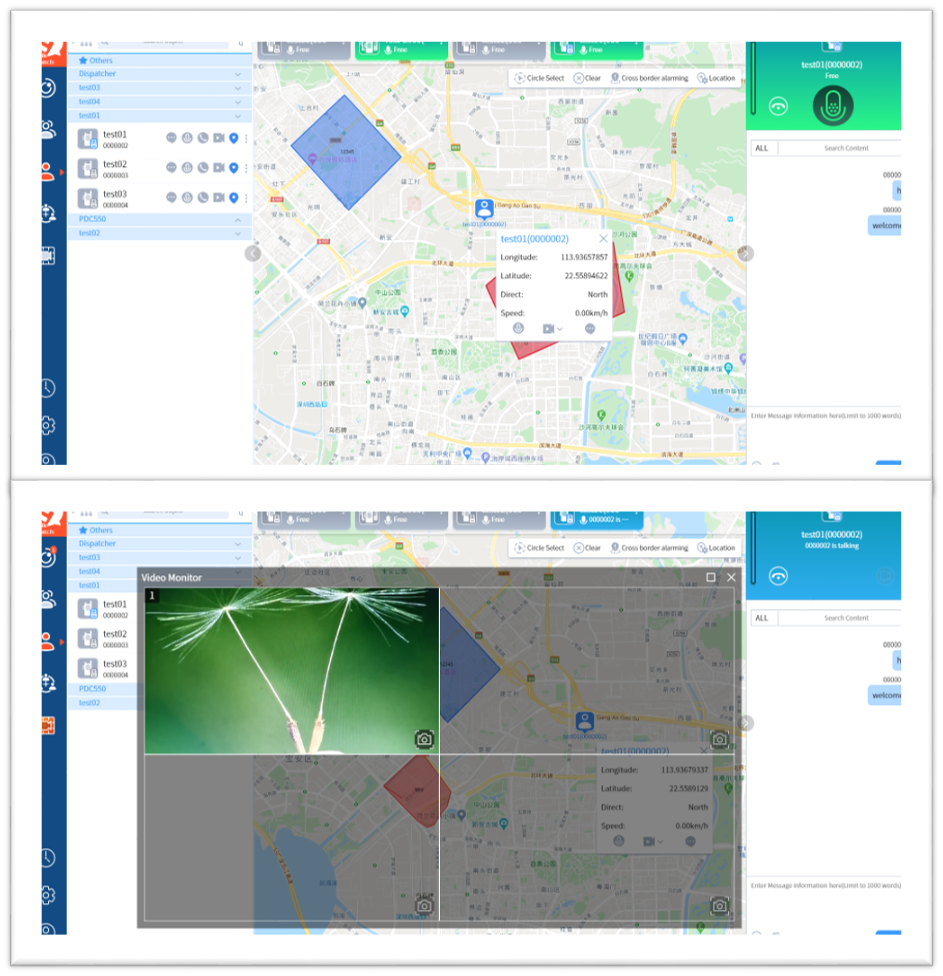 IV. Data Services on Public Networks
With abundant hardware configurations (such as the NFC, HD camera, positioning, and Bluetooth) and 4G networks, PDC550 can integrate with diversified apps to provide dedicated solutions, for example, QR code scanning, face recognition, license recognition, NFC card swiping and sign-up, and visual positioning. PDC550 is not only a radio but also a smart portable working terminal for users in different industries.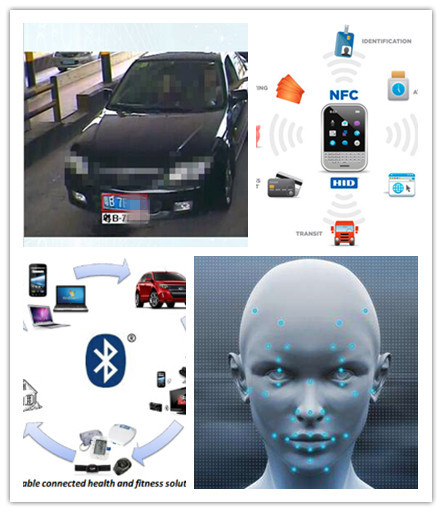 Hytera PDC550 is designed for high-end industry users to meet their requirements in different application scenarios, such as law enforcement, train, smart park, electric power, and water conservancy.
Core features of PDC550 are scored as follows:
· Push-to-talk function: 5 points
PDC550 enables comprehensive functions of Push-to-Talk Over Cellular and contains main professional features with broadband network. With the dispatching platform, it can meet users' requirements in different professional scenarios.
· Audio in narrowband mode: 5 points
In narrowband mode, the audio is clear and loud. When two radios are getting close, there is no squealing sound.
· Signal in narrowband mode: 4.5 points
The test on working distance shows the signal of PDC550 is comparable to professional two-way radios.
· Industrial-grade design: 5 points
Details such as the belt clip, colored ring, and knob are subtly show Hytera's deep understanding of customers' demands in narrowband network.
· Battery backup time: 4.5 points
The 2400 mAh battery enables PDC550 to work for 45.5 hours in DMR mode (without starting the PoC software), which applies to most scenarios.
· Industry expansion: 4.5 points
Configured with diversified apps, Hytera PDC550 can easily address the special needs with its abundant hardware configuration and LTE broadband capabilities.
Will you want to experience group call communication the same as Hytera PoC radio? Hytera HyTalk app free trial is on going.
Click HERE
to
find
more
.