In the previous issue, we explained how Hytera wireless solution facilitates the exploration, drilling and oil and gas recovery in the upstream of the petrochemical industry. As the extracted oil and gas are delivered downstream to chemical plants through pipelines and other transport systems, there are many challenges in communication network coverage and monitoring during the transportation and storage. In this issue, we will introduce what communication systems Hytera can offer to better manage oil transportation and storage.
01
Midstream Sector
Pipeline Transportation
Extracted oil and gas in pipelines are transported to oil and gas stations, from the first to the last stations, after passing through intermediate pump and heating stations. The pipelines are very likely to have to cross rivers, canyons and travel under seabeds, and therefore require regular inspection and maintenance. To facilitate pipeline patrol and maintenance, it requires a set of fully-connected intercom communication system that can support many services required to meet multiple on-site demands, such as on-site emergency response and management, data transmission, personnel positioning and emergency alert.
Requirements and Challenges
· Since the oil and gas pipelines are usually located in wild areas with poor public network coverage, a private network is required for smooth communications during routine patrol and maintenance.
· Due to the remote locations of these long pipelines, real-time critical data to monitor their working conditions is needed to ensure transportation safety.
· Pipelines are divided into several sections and staff are appointed to inspect each section. So it is necessary to plan the route in advance to allow proper surveillance and track the positions of the staff.
· Terminals of communication systems should be able to cope with rough environment conditions. They should have a positioning system and be able to work under extreme temperatures, high and low temperature resistance, waterproof and dustproof. It is also desirable that appropriate accessories are available to free hands for enhanced efficiency.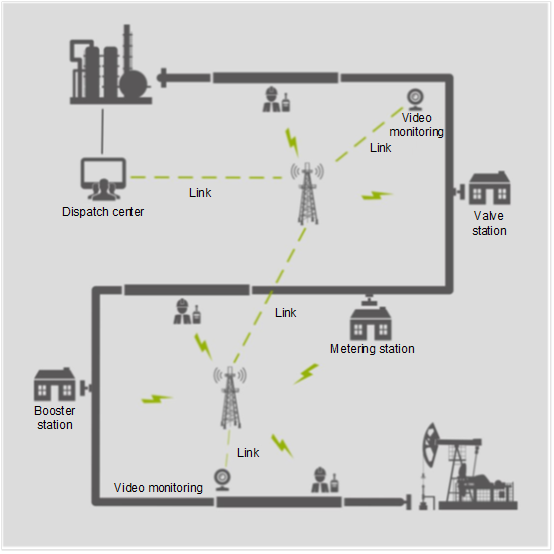 Hytera Solution
Hytera provides a complete private network communication solution to enable reliable and safe communications over the long distances covered by oil and gas pipelines.
1. One Network with Voice and Data
A number of base stations and servers, especially the low power consumption outdoor base station with solar power, are configured along the pipelines to support voice, monitor and control the status of each station or each section of the pipeline in the system. The sensors and valves of vehicles or pipelines and those come along the pipelines that need to be controlled will be connected with multiple remote terminal units (RTUs) of SCADA solution.
2. Multimedia Communication
Beyond the basic wireless voice, video also could be practical in the modernization pipeline while fiber is not available.
3. Patrol Management
Patrollers are equipped with explosion-proof radios for safe communications in routine patrol and emergencies. In addition, the management center can track their locations and view each patrol route.
4. Monitoring Management
This system supports remote data monitoring and management. Customers can configure the equipment and monitor data according to their needs. Moreover, the PUC multimedia command and communication integration platform is used, which can integrate multiple systems and unify the management of audio and video services.
02
Midstream Sector
Oil Depots
Crude oil is stored in oil depots after transportation through pipelines. Oil depots receive, store and distribute crude oil or oil products. Staff at the oil depots are responsible for daily management and safety inspection. In order to manage oil depots efficiently, the staff need to use a wireless communication system to implement on-site management, patrol recording, remote control and software monitoring.
Challenges
· An oil depot has many oil tanks, which seriously obstruct radio signals and inhibit the communication between staff.
· A large oil depot in a mountainous area may be divided into several zones and communication signals between zones are often blocked by mountains.
· Explosion-proof communication equipment instead of cellular phones must be used around oil depots and tanks for safety reasons.
· A smooth communication between staff members on routine patrol and safety inspection around oil depots and tanks has to be guaranteed.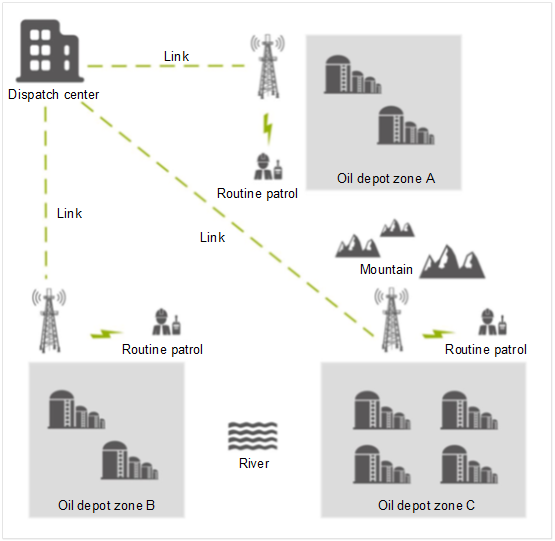 Hytera Solution:
Hytera provides solutions to solve such problems as heavy signal blockage and poor connection across zones.
1. Network Coverage
Small area: In an area with separate tanks where communication with other areas is not required, an intra-area DMO mode can be implemented using explosion-proof radios so that all personnel in the area can be connected at a lower cost.
Large area: For a small oil depot, it requires one repeater, monitoring servers and several explosion-proof two-way radios to achieve a complete coverage of the whole area. In the case of a large oil depot spread across mountains, it is generally divided into several zones and separate patrol teams are appointed to inspect each section. The repeater IP interconnection can be used to enable a wide ranging communication between teams in different zones. In each zone, there will be one repeater and the repeaters across zones will be connected through a repeater IP interconnection.
2. Multimedia Communication
The system provides not only basic wireless voice and video services but also patrol data management. Using higher level explosion-proof radios better enhances work safety. Staff can be scheduled and monitored to patrol predetermined locations at fixed times.
3. Dead zone coverage
With a bi-directional amplifier, the receptions are guaranteed even in dead zones, such as the control room, enabling a complete signal coverage.
Hytera devices used in the midstream sector:
Command and Dispatch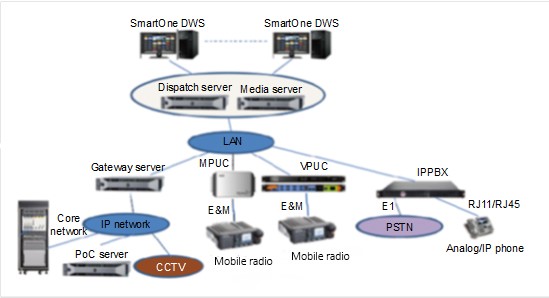 PUC Multimedia Command and Communication Integration Platform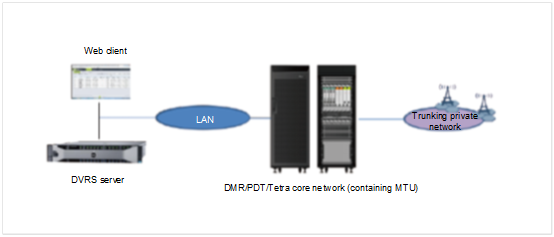 Digital Voice Recording System (DVRS)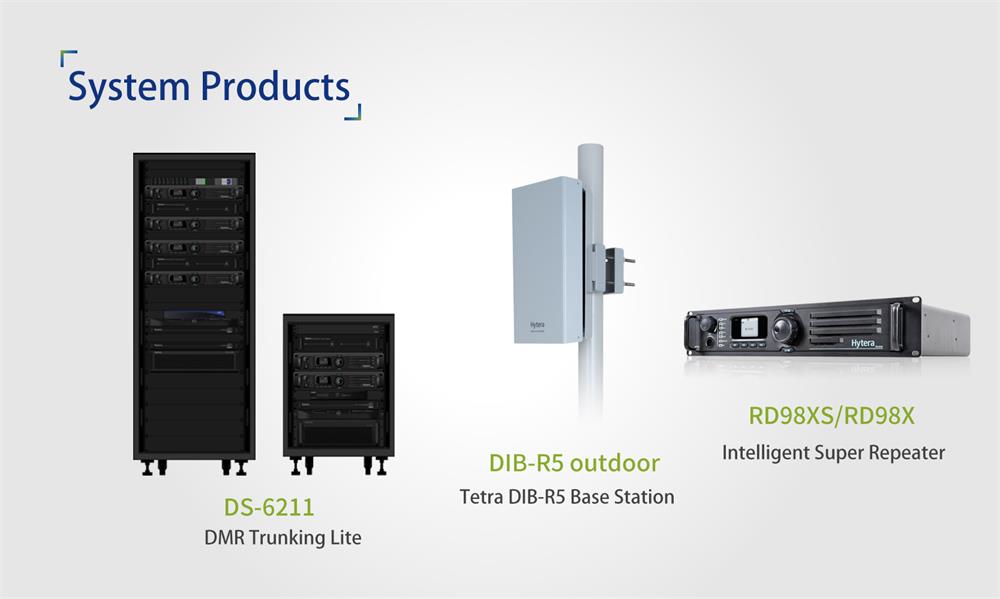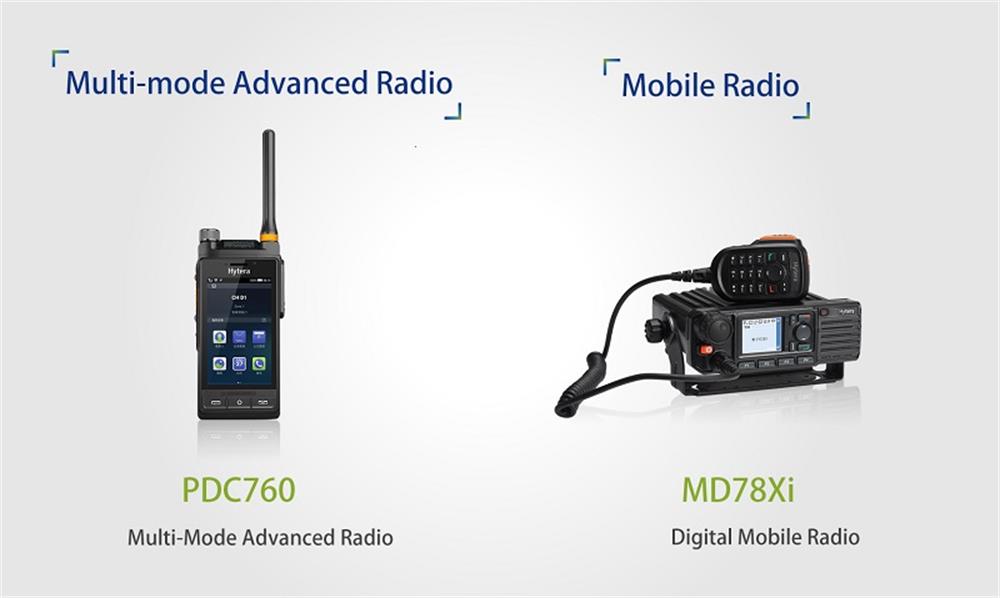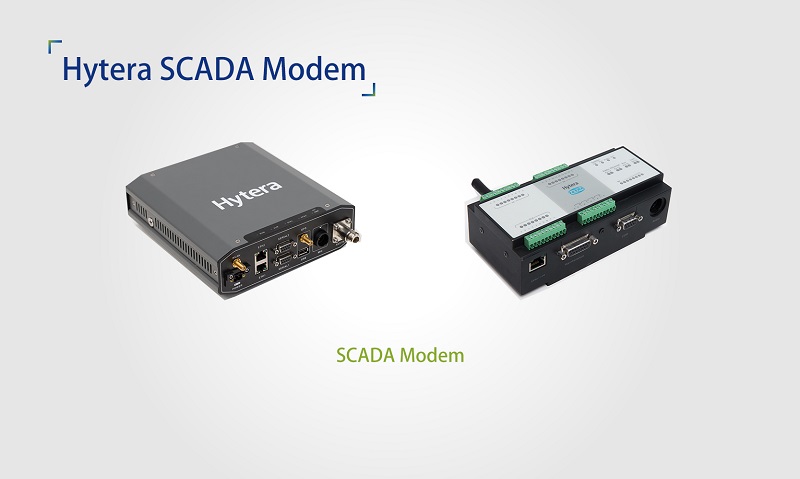 Click here to learn more about Hytera intrinsically safe digital radios.