Located in northwest Shanghai in China and home to the Shanghai International Automobile City, an auto industry economic zone, Jiading District covers a total area of nearly 288 square kilometers and includes three sub districts, seven towns, a management committee and the industry zone in its jurisdiction. The residential population is about 1.6 million. The Jiading Sub Bureau of the Shanghai Municipal Public Security Bureau governs 18 police stations, eight checkpoints, six traffic police teams and other management teams that include numerous police officers.
In 2018, to achieve the governmental "smart public security" and "police affairs' process upgrade" officers' equipment. The programs aimed to bring mapping and analysis technologies to command and dispatch to address law enforcement's needs for community policing. In addition, conventional body worn cameras could no longer meet the evolving demands of Jiading police officers. The officers expected to have body worn cameras that support GPS positioning, PTT functions, WLAN, and real-time video streaming to achieve real-time visual command and dispatch in the field.
To address the needs of Jiading Sub-Bureau, Hytera proposed a 4G/LTE mobile law enforcement system solution, which consists of a back-end system server, database server, digital evidence management system, data collection station, and 4G /LTE body worn cameras.
Hytera's 4G/LTE body worn camera clearly records on-site incidents and transmits real-time information for command and dispatch with mapping and analysis.
The Hytera 4G/LTE body worn cameras support voice calls and image and video transmission. The cameras objectively record on-site law enforcement incidents, collecting evidence in a timely manner. The video helps protect the legitimate rights and interests of the police and parties involved, and the police can perform duties according to the law, guaranteeing fair and civilized law enforcement. Police officers can store audio and video information from a law enforcement incident in the terminals as evidence and transmit real-time HD video clips to the command center. Commanders, after watching the video, will gain situational awareness and improved incident response. With a built-in BeiDou/GPS dual-mode chip, the body worn cameras can transmit real-time location information of police to the command center. During an emergency, commanders can locate officers and deploy the closest police resources to quickly respond. This improves the dispatch efficiency and ensures the safety of the police and citizens.
Hytera's open architecture platform integrates broadband and narrowband systems for command and dispatch analysis.
The system's platform adopts an open architecture. Jiading Sub-Bureau constructed the video communication police affairs management platform via open interfaces. Thus, the officers achieve rapid response, enhanced command, comprehensive incident handling and effective crime prevention. The platform will be integrated with the existing TETRA trunking system of Shanghai Municipal Public Security Bureau through the professional unified communication (PUC) platform to gain audio communications between the body worn cameras and narrowband system. This greatly improves the whole system's efficiency. The PUC platform provides unified access, integrated switching and application services for command and dispatch. The platform also features network interconnection, multi-level hierarchical management, and group- and domain-based networking capabilities. The system ensures Jiading Sub-Bureau performs efficient and orderly law enforcement work.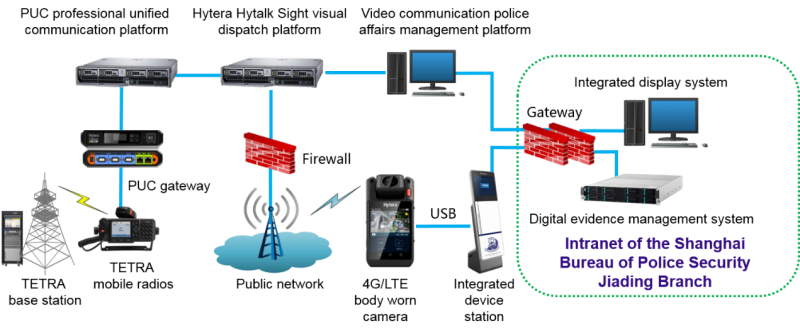 The frontline police record on-site incidents to enhance law enforcement transparency and increase government credibility, while simultaneously transmitting the real-time information to commanders to improve situational awareness. The back-end platform interconnects broadband body worn cameras and the existing narrowband TETRA system, which boosts dispatch efficiency. Hytera's 4G/LTE mobile law enforcement system solution helps Jiading Sub-Bureau of Shanghai Municipal Public Security Bureau meet its needs for command and dispatch mapping and incident analysis.