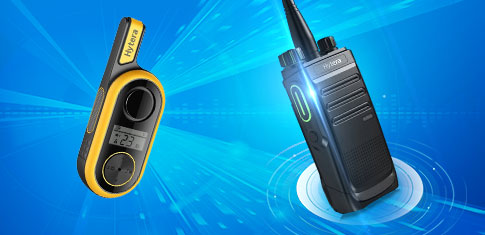 Two way radios and walkie talkies are both communication devices. However, they cannot be defined as the same thing with regard to technology.
Walkie talkies, also known as portable two way radio, handy talkie, handheld transceiver, or HT, are usually used in Individual scenarios and requires no license. We can get a walkie talkie from supermarket, but two way radios are mainly for industries users. The two way radios and walkie talkies are produced in different ways. Walkie-talkies are often used for basic wireless communication and entertainment. Many walkie talkies are colorful to attract users. They have a shorter communication range, fewer features, and are much cheaper than two way radios.
Usually the channel of a walkie talkie is fixed and users cannot modify it. A walkie talkie can only back-to-back talk with other unlicensed radios, which makes it unable to extend the range via repeaters. Its antenna is fixed, and the maximum Tx power level is 0.5W, that is why its communication range is limited. It can be used only in the area without channel control and easily affected by the interference from other devices.
Most two way radios have better performances in waterproof and dustproof tests, which make them more popular among industrial users. Two way radios can operate in two ways, transmitting and receiving signals. This makes them a favorable option in professional industries, like public safety, emergency response, and oil and gas sectors, and so on.
It requires a license to use two way radios in some countries. With license, users can adjust the frequencies and avoid the interference from other devices. Apart from its own fixed antenna, two way radios can also connect to the external antenna to expand the range, thus to guarantee a smooth and reliable communication.
Two way radios can be applied in many scenarios, including universities, hospital, hotel and stadiums, etc. Their robust performance to harsh environments make them become key role in emergency response and construction sites.
The walkie talkie is a type of two way radio. The two way radio, however, is not entirely the same as the walkie talkie as not all the radios are portable, such as a mobile radio installed in a car or wall-mounted base station.