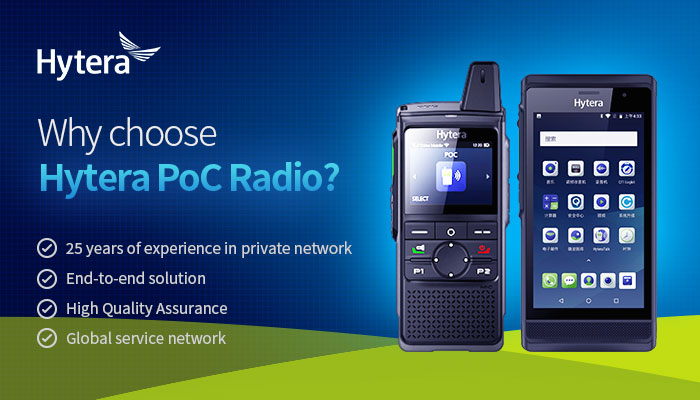 >>PoC radio industry is booming but homogeneous competition is intensified.
With the large-scale deployment of 4G networks around the world, mobile Internet and smartphone sectors develop rapidly. At present, the entire industry chain has developed maturely from chips, to modules, to terminals, and to systems. Meanwhile, the 4G-based Push-to-Talk over Cellular (PoC) system has made remarkable headway in solving latency and congestion. The PoC trunking can meet requirements for supervising, commanding, dispatching, and collaborating in law enforcement that is not about public security or emergency rescue. Seizing this opportunity, major manufacturers worldwide release 4G PoC products and solutions, which expand and provide a supplement to the conventional radio and private network market. Though there are many PoC terminal and platform vendors, they focus on voice services. Their products are similar and the quality varies greatly, so the products encounter severe homogeneous competition.
Four Reasons for choosing Hytera PoC Radio
>>With over 25 years of experience in private network, Hytera can tailor the most appropriate private communication solutions on the public network.
As a globally leading private network equipment and solution provider, Hytera, based on the over-25-year-experience in serving the private network communication industry, has an indepth understanding of customer requirements and can provide customers with suitable products and solutions. In 2014, Hytera launched a cutting-edge and professional broadband-narrowband convergence solution to enable the smooth transition of customers from the voice-only service to video and big data transmission. Recently, Hytera has released PoC products and solutions to cater to customer requirements for private communication on the public network, guaranteeing timely and smooth communication experience on the public network.
Hytera PoC solutions are targeted for customers in the industry and commerce, law enforcement, and transportation. The voice-only service cannot meet the requirements of the current customers. With the burgeoning of mobile Internet, the requirements for transmitting pictures, videos, and data, increase rapidly. The broadband in the private network can hardly gain widespread application in government administration and businesses due to its high cost and limited frequency resources. Hytera PoC solutions can not only meet the requirements for upgrading conventional narrowband technologies and services, but also, utilizing the wide coverage of the public network, provide wide-range and high-quality communication without dead spot for users performing tasks at long distances. Currently, Hytera PoC products and solutions have been deployed in many pilot offices and commercial offices in the world.
>>Hytera can provide complete solutions, fast and ease-of-use commercial terminals, and carrier-class professional platforms.
Hytera PoC solutions can provide a large variety of products, compatible with third-party Apps, to meet different customer requirements. Apart from PoC terminals, Hytera PoC solutions can be deployed flexibly in diversified modes. The fast and ease-of-use commercial terminals together with carrier-class professional platforms can implement plentiful multimedia and trunking services, including individual or packet-based video call and multimedia data transmission. Hytera PoC system can be locally deployed or deployed on the public network cloud platform, as per the customer requirements. With the system platform, group customers can manage branches distributed in different regions as well as teams under the branches in a centralized manner, greatly improving the hierarchical management efficiency. Through the operation and management of the PoC network, various data can be presented graphically, which can help PoC network operators accurately understand the status of users and terminals in real time.
>>Hytera's products passed stringent testing and won multiple certifications.
As a global leader in radio industry, Hytera has a complete product testing system to strictly control the product quality. All terminals pass the certifications such as CCC, CTA, SRRC/model certification, CE/FCC, GMS, IP54/IP68, and US military standard. Hytera provides secure and reliable software and hardware and adopts multiple software and hardware encryption modes to ensure system and communication security.
>>With 4000+ channel partners and global service network, Hytera can provide customers with excellent services.
Hytera has established a marketing and service network covering most regions in the world, with nearly 90 branches worldwide. Together with more than 4,000 channel partners worldwide, Hytera is able to provide the most convenient communication experience and the most timely service guarantee for global customers.