Terrorist attacks, mass incidents, crisis events, natural disasters such as typhoon, earthquake, floods, snowstorms, landslides and debris flow…Those natural and man-made disasters occur around the world almost every day. Millions of lives and billions of properties were lost in disasters every year.
When emergencies occur, rescue team will face problems such as the damage of infrastructures and public network as well as the collapsed roads. In addition, the harsh environment would disable the possibility of traditional network construction. Thus, rescue team rely heavily on private network to satisfy the demands on fast response and communication with the command center.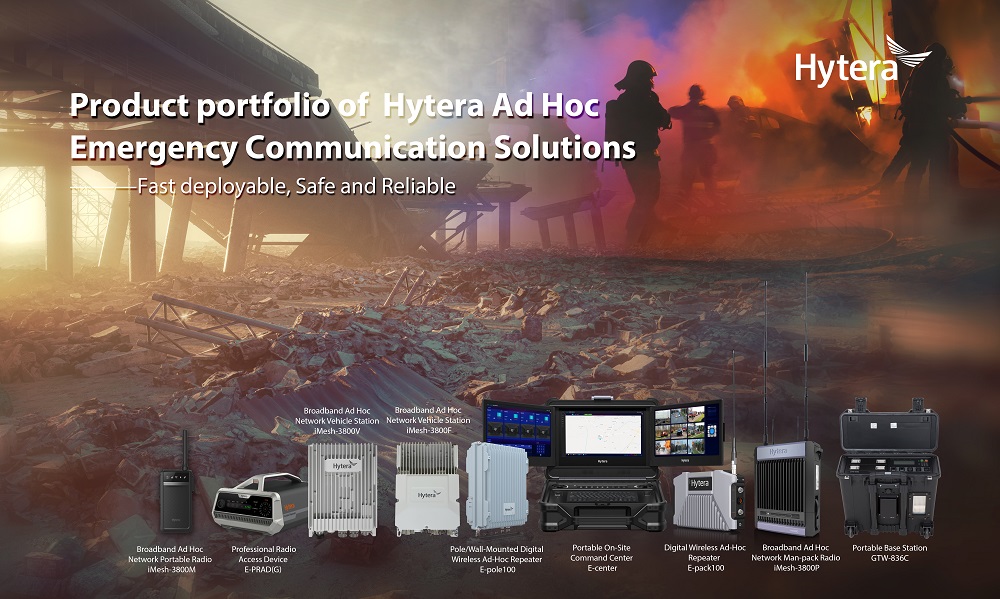 Hytera can provide an emergency ad-hoc network solution which will help customers build up a safe and reliable, fast deployable and integrated communication network in emergencies. In this solution, there are mainly three emergency communication products, including man-packed digital wireless ad-hoc repeater (E-pack100) ,man-packed broadband ad-hoc networking device (iMesh-3800P) and on-site dispatch and command center (E-center), .The digital wireless ad-hoc repeater E-pack100 which adopts narrowband wireless networking technologies can quickly build up voice communication in the emergency rescue sites. It's small in size, light in weight, and can be carried by a single first responder. It supports wireless dynamic interconnection of up to 31 devices, and the coverage of voice communication can reach 10 kilometers. E-pack100 is self-powered and can be activated with only one button, no need of installation, convenient and easy-touse.
Based on the advanced 4G and 5G mobile communication technology, Hytera iMesh series products enable flexible networking, high throughput rate and strong reliability, with end-to-end QoS and security. Different forms of products could apply to different scenarios, such as vehicle-mounting, pole-mounting, backpacked and portable. The iMesh series support a variety of data access methods, including wired Ethernet, WiFi and Bluetooth and can also connect with camera with HDMI interface and analog camera. The Backpacked broadband networking equipment iMesh 3800P is light and portable, which can provide broadband link, realize the real-time image and video transmission, and provide more intuitive basis for the commander's decision-making.
E-center is a portable command center, which is easy to be carried on site and set up quickly , convenient to disassemble and move. Triple-screen design allows on-site commander to view map, video, and dispatch interface clearly. The on-site commander can monitor the video on the scene in real time and dispatch the first responders timely. In addition, The E-center supports multiple links access modes for interconnection with the headquarters so that the general commander could realize joint command and resources mobilization.
Smooth and reliable communication network is critical for rapid emergency response. Hytera provides a complete emergency solution including broadband and narrowband ad hoc network equipment, portable command center, and dispatch software. This solution could contribute to building a safer and more stable emergency communication network without other infrastructure, helping commanders to take full control of the emergency situation timely and improve the work efficiency.
Hytera emergency ad-hoc network solution is not only applicable to natural disasters such as fire, earthquake, mudslide, flood, etc., but also can provide reliable communication network for major event security, mega sport events, forest rescue and other scenes. We have already successfully served Anti-terrorism police in Jakarta, Indonesia and other customers, and successfully secured many important international events such as the APEC summit held in Papua New Guinea in 2018.