Hytera, as a global leading provider of professional and private communications equipment and solutions, brought together the critical communications community in a week of live and on-demand product showcases, speaker sessions and virtual networking opportunities during CCWeek virtual event on Nov. 2nd-6th.Hytera delivered innovative products and envisages the future of PMR at this virtual event and attracted thousands of visitors all over the world visited Hytera virtual booth.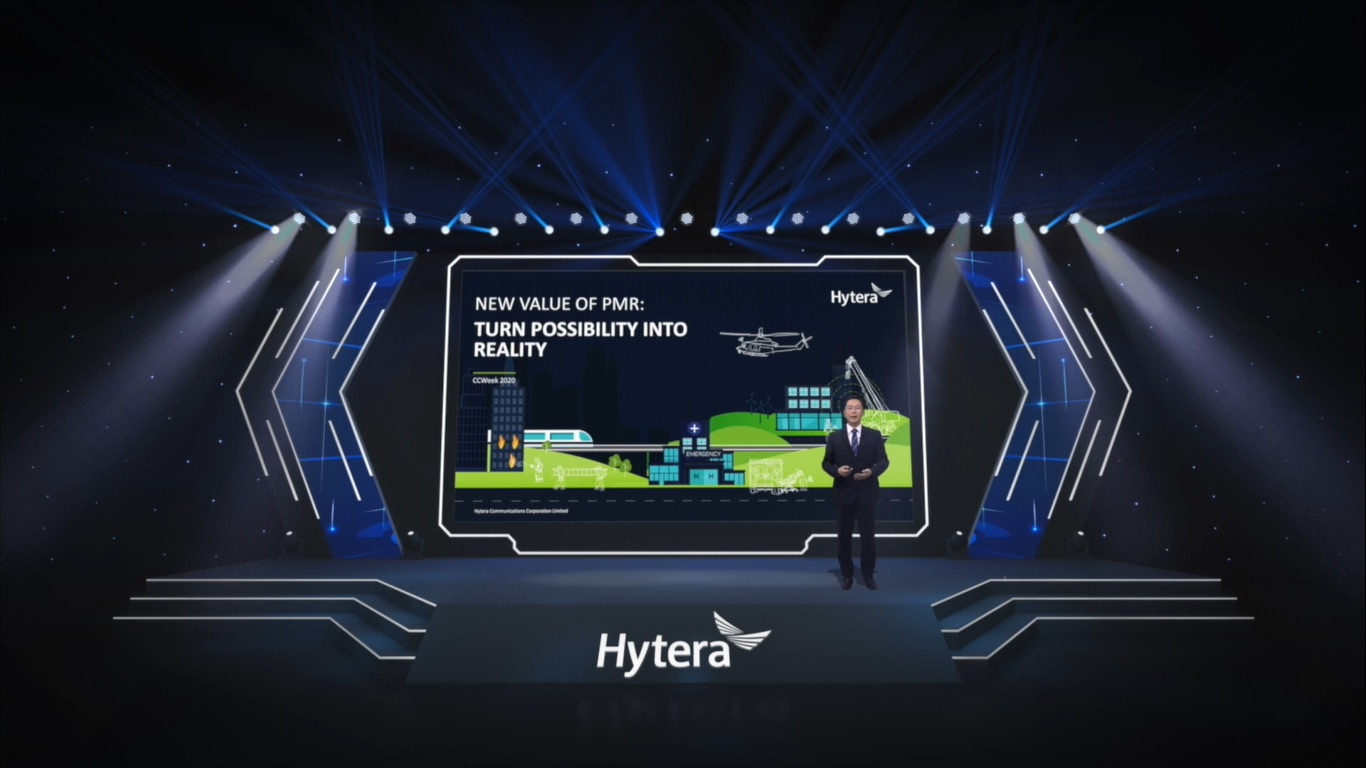 Envisaged the Future of PMR at Critical Communications: 2G+5G+N(future)
In recent years,5G and lots of new technologies such as AI,IOT,etc, accelerate the digitalization of PMR industry, on Nov.3rd,Hytera shared perspectives on the evolution of communications technologies from 2G to 5G.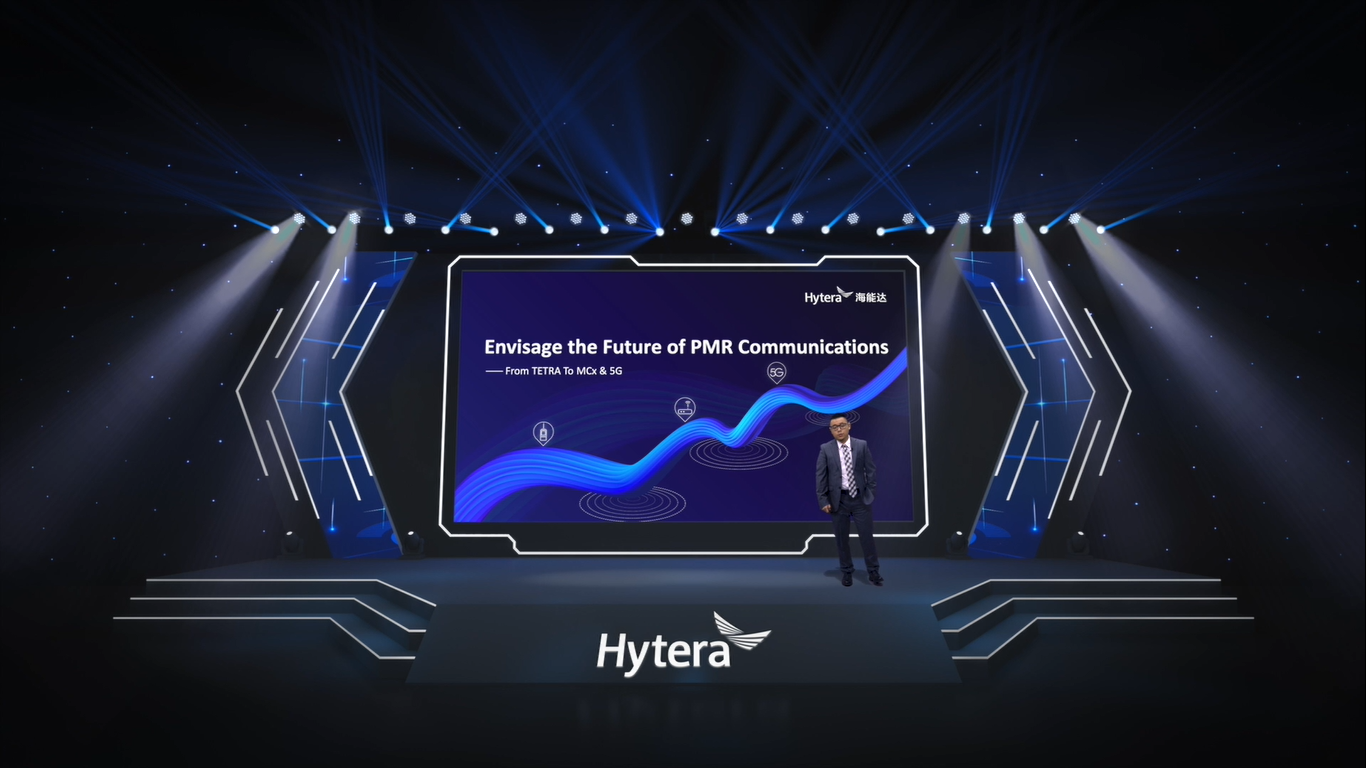 Hytera believes that there is no single technology capable of fixing all problems, instead it will be "2G+5G+N( future)", a hybrid and convergent way of meeting a multitude of requirements. "2" stands for 2G technologies, such as TETRA, which provides stable and reliable voice services for critical communication users; "5" stands for 5G that supports high throughput, low latency and massive connections; "N" stands for various applications based on different technologies. Numerous services and apps will be made available for industries by developers.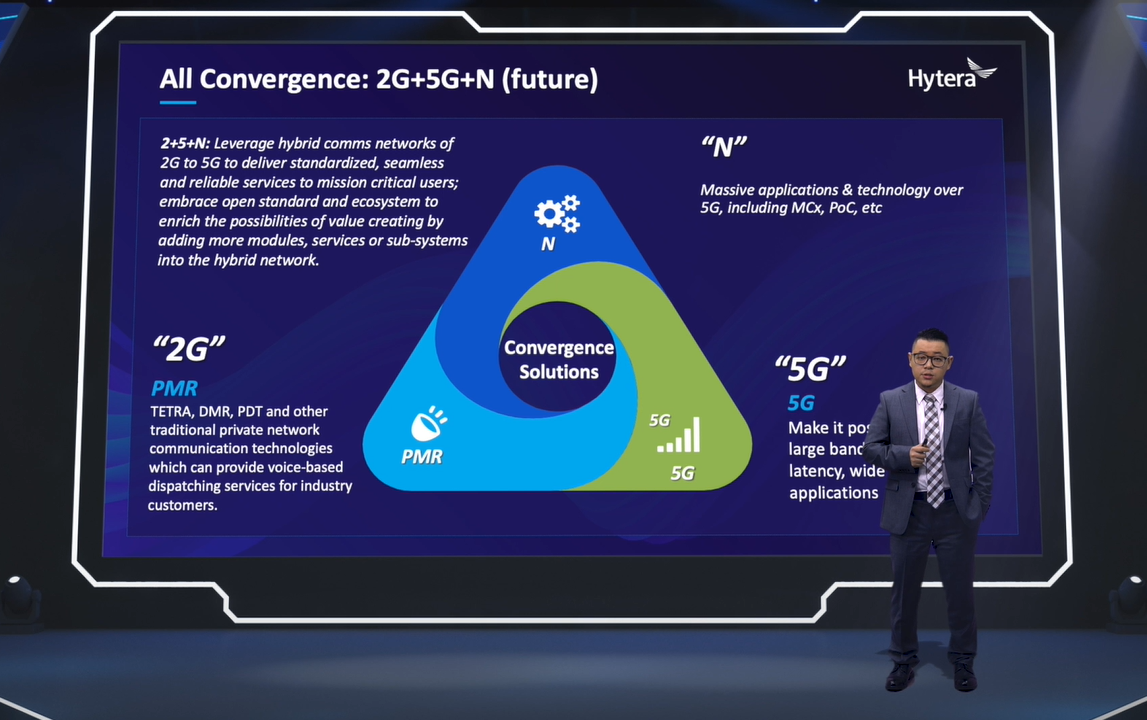 Latest Bodycam, mesh radio, ad-hoc digital repeater and Hytera Oran 4G card with cutting-edge technology showcased on CCWeek2020
Hytera showcased new products with cutting-edge technology including the new Body Worn Camera VM580D, the PNE380 Compact Multi-Mode Mesh Radio , the latest Digital WANET Repeater E-Pack100 and Hytera Oran 4G card Hy4G Series,multi-mode radios and PoC radios .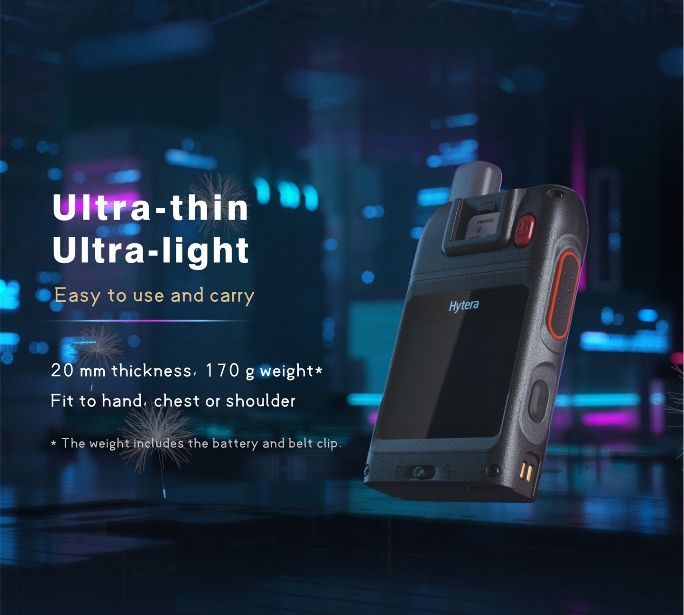 The latest ultra-thin smart 4G body worn camera VM580D can film 1080P videos with infrared night vision feature and meticulously distinguish facial features and profiles very clearly at distances of 5 meters to 10 meters in the dark. It can also easily carry out convergence communication with broadband or narrowband terminals via LTE network and help users improve the efficiency of command and control tasks and provide a complete solution for end-to-end equipment management and data collection, storage, query, and analysis.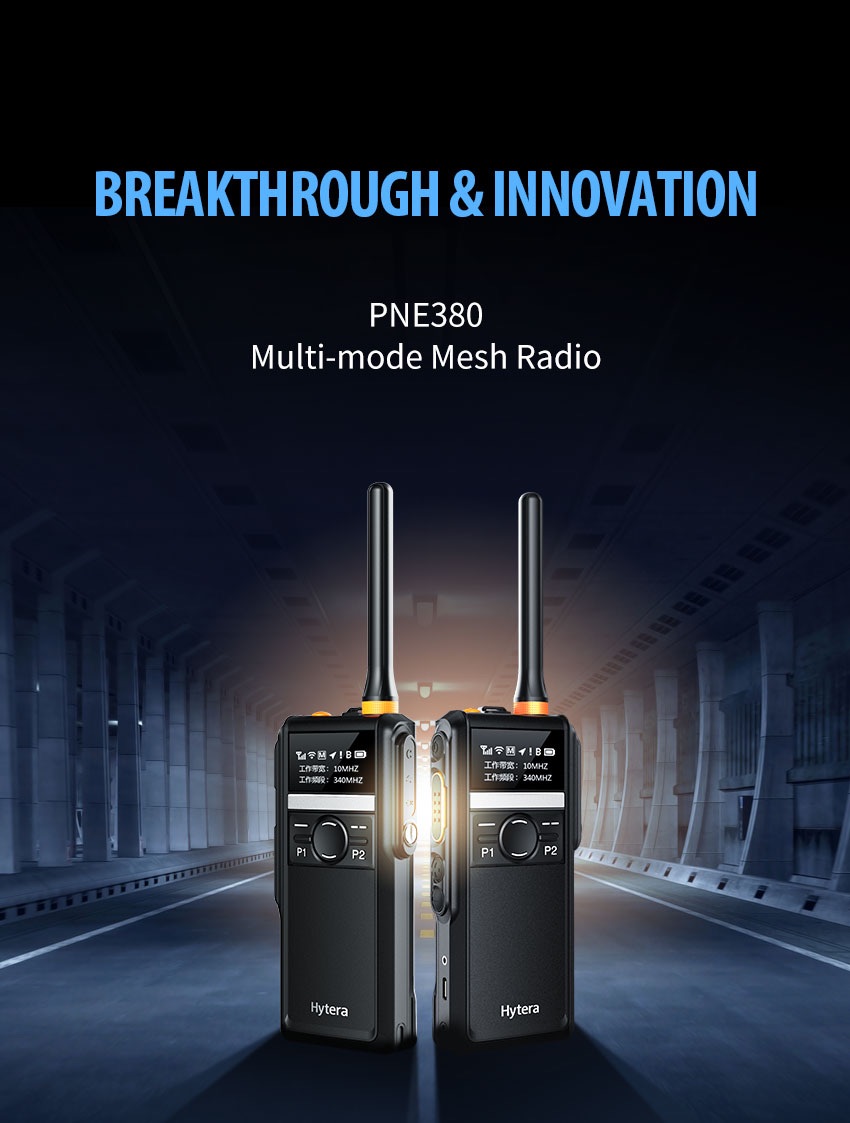 Multi-mode mesh radio PNE380 is designed as a brand-new handheld radio that is capable of offering voice, data and video multimedia service, and similar to the traditional DMR radios in dimensions, appearance as well as usage mode,it can flexibly switch between the cellular mode and the mesh mode on customers' demands and work over both U and L band, and support auto frequency scanning and selection, thus offering much better anti-jamming performance than the traditional single-band radio.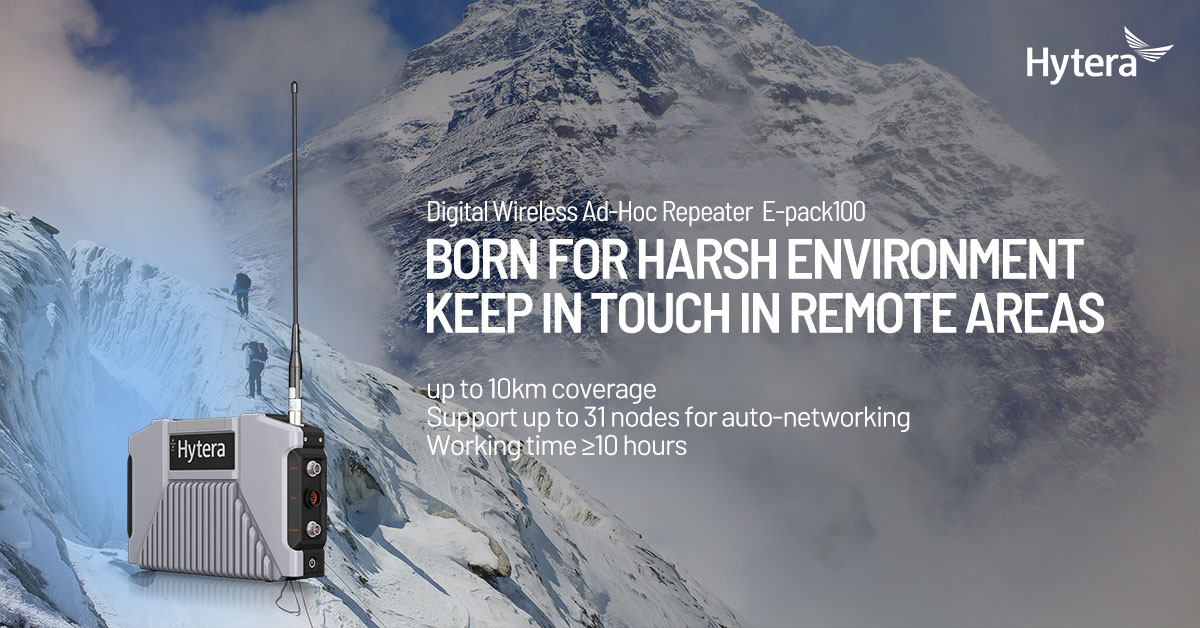 Hytera also showcased Digital Repeater E-Pack 100, which is intended for fast and flexible communication system deployment under emergency situations. The E-pack 100 can not only be used as a radio for calling, it also creates a wireless mobile ad-hoc network to route voice. Based on TDMA and FDMA technology,one frequency can be used to make calls and route voice at the same time, greatly saving frequency resources.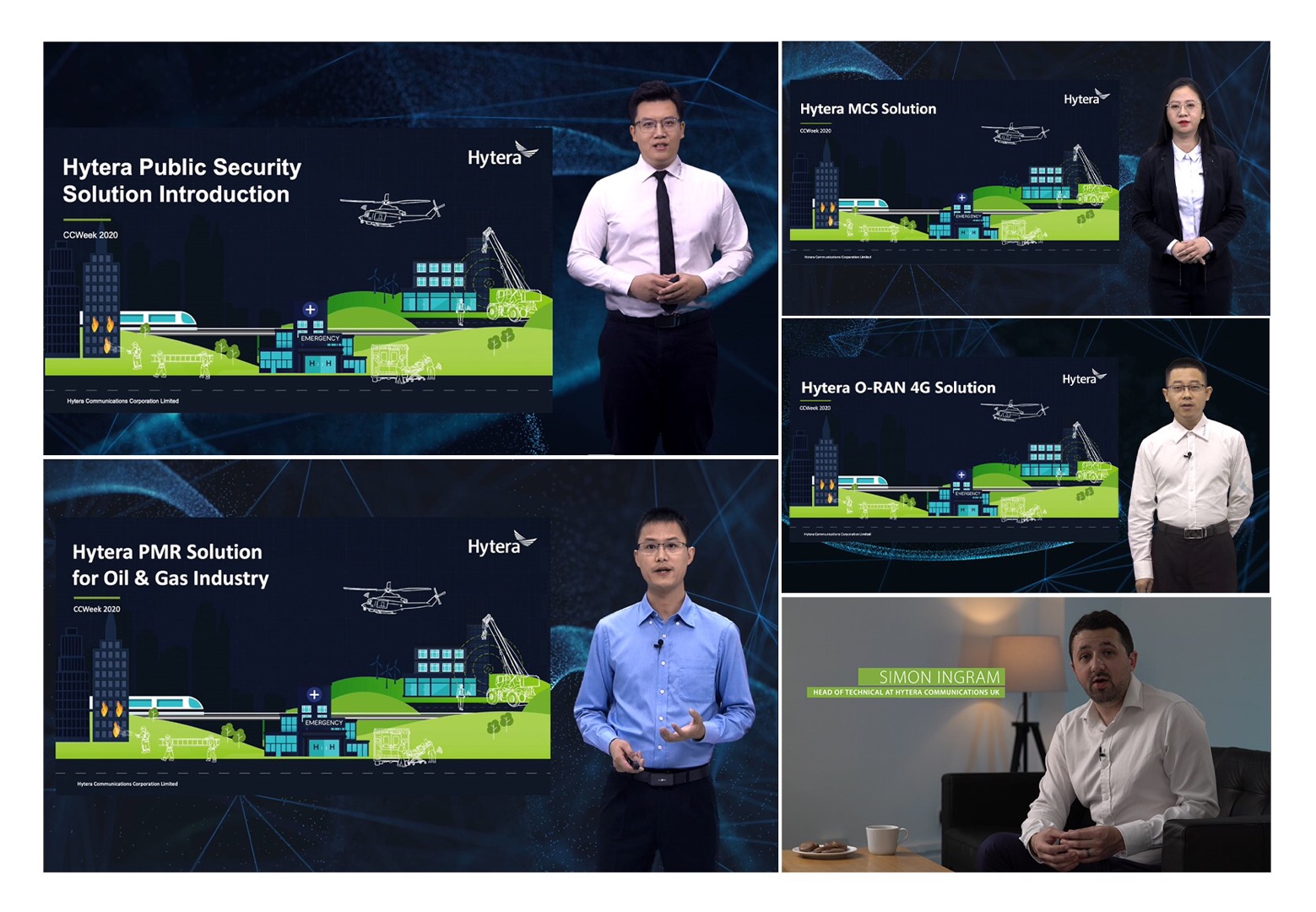 Hytera shared smart and comprehensive solutions on public security, transportation, Oil & Gas, MCS (Mission Critical Service)
From emergency call taking system to visual command system, mega event security systems to incident analysis system, from PMR communication technology to broadband mission critical service,Hytera can provide comprehensive solution for daily duty, mega event security and crisis respond scenarios and provide the most complete portfolio for customer's unique features, including different kinds of handset terminals, narrow band and broadband systems and smart command and dispatching systems.
Hytera will continue to innovate, to bridge up the connection between our technologies and customers 'requirements, and further to make contribution to a more efficient and safer world.
If you want to know more information about Hytera at CCWeek2020, pls visit: https://www.hytera.com/html/ccw2020/index.html