The Hytera 4G LTE Intelligent Communications Solution for Mining offers an integrated platform capable of supporting a wide range of audio, video, data and M2M/IoT applications suitable for surface, strip, open-pit and underground mining.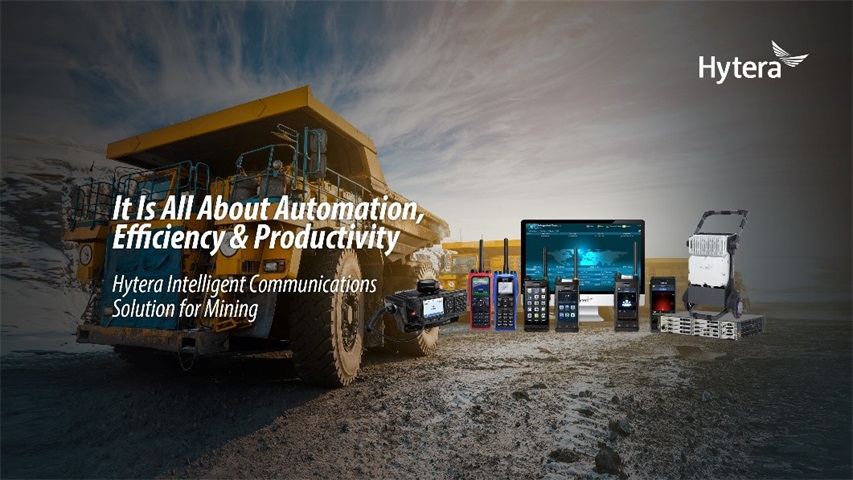 Global trends impacting the mining industry
The mining and metals industry faces a number of challenges including fluctuating demand for ores and metals, excess capacity, and increased competition from competing materials, leading to weaker prices. The most accessible high-quality deposits are already being exploited, forcing the industry to develop lower-quality ores in more remote regions.
Mining faces more stringent environmental and safety regulations and the requirement to engage more with local communities. The industry also suffers from an ageing workforce, but is finding it hard to recruit younger people with modern technological skills. All of these factors are driving up costs.
Development and value trends
To meet these challenges, mining companies must reduce operating costs and boost efficiency, productivity and safety if they are to achieve profitability. Increased digitalization of the industry is one way to do this.
Greater investment in automation, robotics, in-pit mobility solutions, data-centric analytics and the creation of a digitally enabled workforce is key. Digitally enabled hardware tools are being deployed to perform or improve activities that have traditionally been carried out manually or with human-controlled machinery.
But too often automated processes, IT layers, communication systems and monitoring regimes operate in silos. To achieve the real benefits of digitalization, the industry needs to become an integrated enterprise using connected platforms supported by next-generation analytics.
Field teams can be empowered by using connected audio, video and data mobility solutions, along with virtual and augmented reality applications. By leveraging algorithms and artificial intelligence to process data from telemetry and SCADA systems, mining companies can exploit big data analytics. This information will improve real-time situational awareness and decision making, as well as providing valuable data to shape future projections and strategies.
How digital communication solutions benefit the mining industry
The Hytera Intelligent Communications Solution for Mining can help the industry realize the benefits of digitization. It provides a highly transportable end-to-end broadband solution including terminals, network, data center and command and dispatch center. It is capable of supporting sophisticated automation, data analytics, and all the voice, video, data and M2M/IoT applications used in the mining industry.
The fully 3GPP-compliant 4G/5G solution provides a complete wireless broadband network including radio access network (RAN), backhaul, LTE core, device and network management. Multiple services can be run simultaneously over the high throughput and resilient 4/5G network, including: Mission Critical Push-to-X (Voice/Data/Video); real-time video streaming; telemetry/SCADA; and M2M/IoT sensor monitoring. Low latency transmission rates (< 100ms) enable precise control of remote automated operations.
The various technologies can all be managed using one unified command and visualized dispatch center and a remote control center, which receive and distribute real-time information from and to the field operations. The network infrastructure also supports intelligent data analytics and artificial intelligence applications.
Hytera's communications solutions support the mining industry
Hytera's solutions have been successfully applied in the mining industry where they have helped customers solve their communication problems. For example, JSC AK Altynalmas has deployed a Hytera Hytalk (PoC) LTE platform and terminals in Kazakhstan.
Hytera's Intelligent Communications Solution for Mining provides instant voice, video and data communications to deliver team members the information they need to know to carry out their work. Hytera's communications solution supports a rich ecosystem of real-time intelligence, which enables teams to work more efficiently, productively and safely.
Click Hytera's Intelligent Communications Solution for Mining for more information.