You might still remember the highlights of Hytera Worldwide 360° Seminar Tour from events.hytera.com. Since Hytera Global Partner Summit 2018 is approaching, we will share informations and news with you again on it.
What's new?
We noticed in different scenarios visitors search for different contents. For exemple, before the event, visitors want to have a quick view of event information. At the event day, showing information of venue, agenda, and speaker details as event guide will ensure attendees to learn a general picture of event. When the show ends, attendees might look for highlights and photos of event.
Well, we've took all this into account and we will launch three versions, the Pre-event, D-day and Post-event version.

What you get?
At this moment, you will learn informations like general agenda, speakers from Hytera group and previous highlights of events. Now pick up your phone and learn more!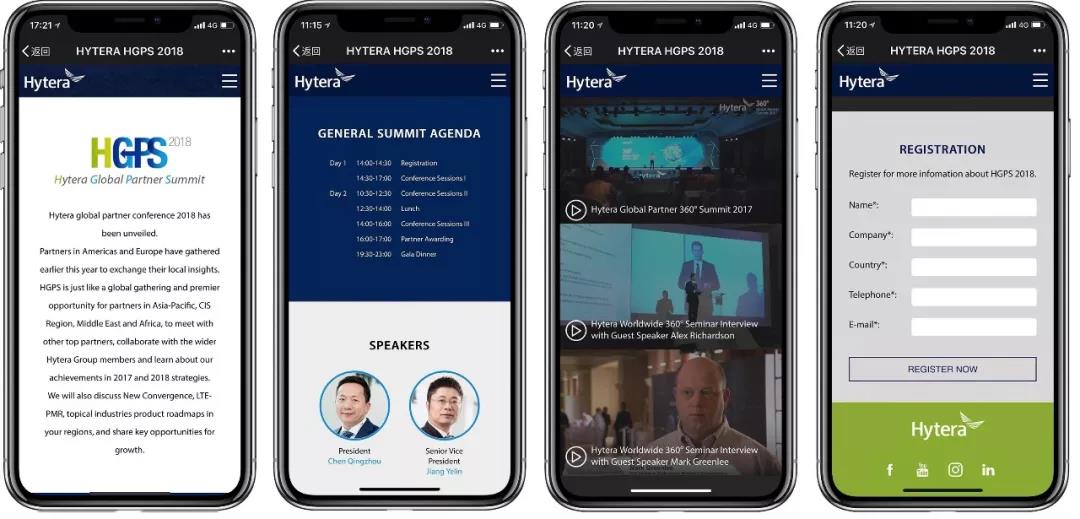 If you are one of the attendees of HGPS 2018, on the event day, by scanning QR code and registration, you can easily download detailed agenda, catalog and brochures, even better, we set a message board so all the attendees can exchange insights and leave opinions.
Be free on the event day!

For more information please visit:http://events.hytera.com/