All you need to know about Hytera's products, solutions and activities at Critical Communications World.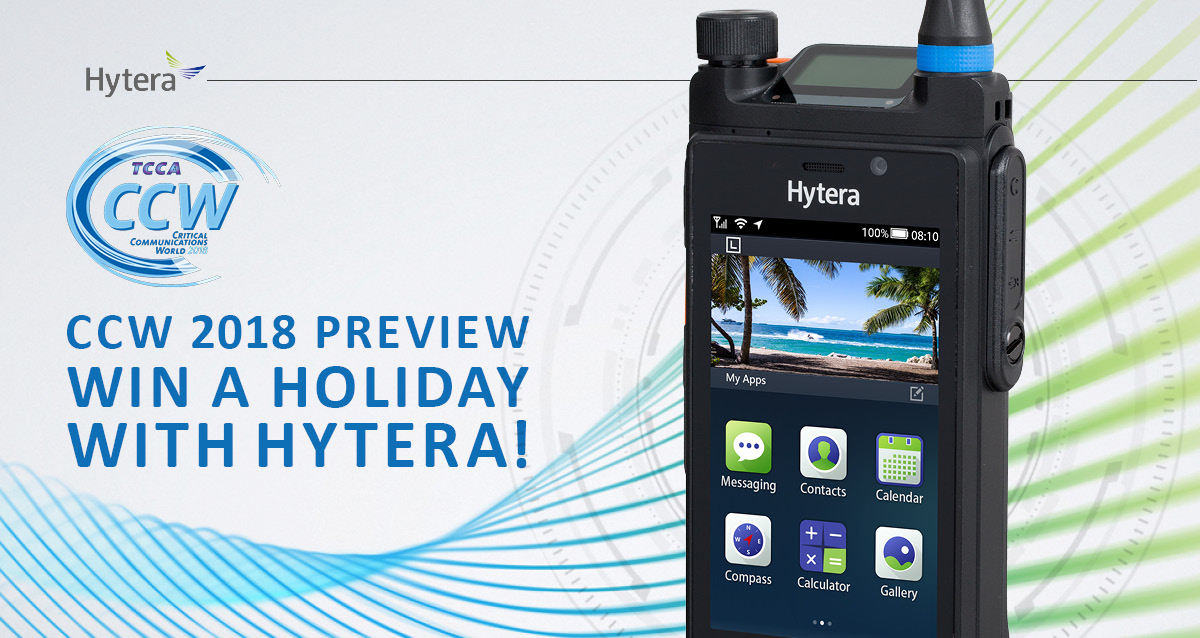 Hytera, the global Professional Mobile Radio (PMR) communication solutions provider, will once again be participating in the Critical Communications World exhibition and conference, which is being held at Messe Berlin ExpoCenter City in Berlin, Germany (15-17 May).

This year, you can be a winner with Hytera. Pre-register for a tour of the Hytera stand and claim a free gift when you join us at the event for your personalised tour. Not only that, but you will also be entered in to our prize draw to win a holiday worth €2,000, or one of 20 Hytera VM685 Bodycams*.

All you have to do to pre-register is visit ccw2018.hytera.com and fill in our quick form, select the solutions you are interested in and request a meeting time that suits your schedule.

All pre-registrations will be sent a unique code. Either print or bring this along on your mobile to exchange it for a free Hytera gift on the stand (while stocks last), and entry into the Hytera prize draw*.

So, don't forget. Make the most of your visit to CCW by pre-registering for a tour of the Hytera stand and win!

What will you find on the Hytera stand this year? Only the broadest and most exciting range of communication solutions available. The key theme for this year's CCW event is: Innovate for a safer world.

Hytera will be showcasing its full portfolio of integrated products, systems and applications across its family of communication technology brands, including Sepura, Teltronic, Norsat and Sinclair.

Highlights will include Hytera's newly released LTE-PMR Convergence Solution, the Hytera Multi-mode Advanced Radio, the new PoC (push-to-talk over cellular) handsets and the iMesh intelligent deployable network.

The company will also be sharing its success stories in Public Safety, Emergency Rescue, Mass Transit, Public Utility and Commercial Business, demonstrating how it provides communication problem solving across multiple technologies and standards.

The Hytera stand (E20) will showcase a range of intelligent convergent communication solutions grouped under several key product areas:
•Narrowband Radio & Trunking: DMR and TETRA portables and mobile radios, including ATEX radios, repeaters and base stations. Now including the Sepura portfolio of TETRA terminals and accessories.
•Smart Radio & System: The Hytera convergent solution integrates narrowband and broadband networks to provide unified voice, data and image transmission through multi-mode terminals, bodycams and supporting applications.
•Integrated Command & Control: Integrating multiple communication modes and data streams with the Hytera Integrated Command & Control (ICC) system.
•Emergency Response Devices: Hytera iMesh, E-pack100 and Norsat GLOBETrekker portable satellite provides rapidly deployable temporary communication systems with voice dispatch and video capture.
•Sinclair Technologies: Rugged and reliant antennas, filters and RF conditioning solutions for mission critical applications.
•Transportation: Integrated solutions for the transport sector brought to you by Teltronic.
The products and solutions on display will demonstrate how Hytera enables its customers to improve connectivity and data analytics in the complex environments they work in, from daily command and control, to emergency response, disaster relief, and anti-terrorism.

The Group's experienced teams are proud to have supported government agencies and commercial organisations around the world at a time when they are facing increasingly complex and demanding communications situations. Hytera's solutions have helped them to increase their situational awareness, collaboration and response rate.

Hytera will also be participating in the conference programme, with technology workshops and best practice case study talks on both the 16th and 17th of May. Please refer to the official CCW conference schedule for more information.

International Critical Communications Awards 2018
We are also proud to announce that the Hytera group of companies have been nominated for the following ICCA awards:
•The Hytera TETRA and LTE convergent solution by Teltronic is shortlisted for Best Evolution to Future Broadband.
•The Hytera multi-mode advanced radios PTC760/PDC760 are also shortlisted for Best Evolution to Future Broadband.
We look forward to showing you our capabilities at CCW and to see how we can help improve your communications and innovate for a safer world.

Pre-register now at ccw2018.hytera.com to book your personalised Hytera stand tour, claim your free Hytera gift and enter our prize draw*.

*Prize draw terms and conditions apply.