Tokyo, Japan - Sept. 27, 2023 - Hytera Communications (SZSE: 002583), a leading global provider of professional communication technologies and solutions, in partnership with General Trading Japan Co., Ltd. and Nissin Electric Co., Ltd., participated in the industrial tradeshow INCHEM TOKYO 2023 from September 20 to 22, 2023 in Tokyo and showcased a lineup of explosion-proof two-way radios which are designed and certified to use in hazardous environments with explosive gas and combustible dusts.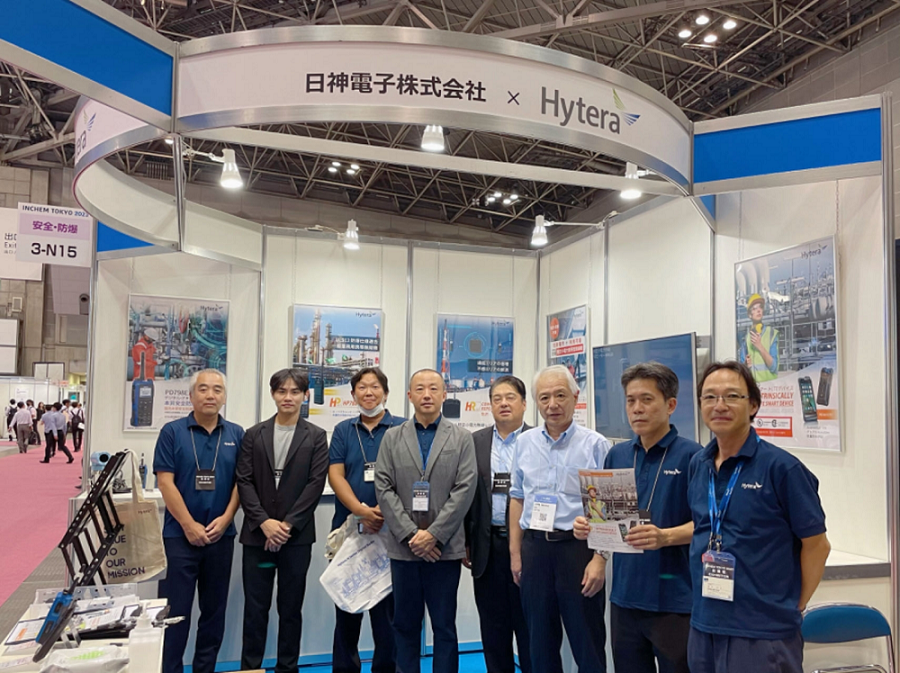 Hytera team with partners, Liu Zhen (fourth from the left), president of General Trading Japan, Yoshiharu Saitou (fifth from the left), director of Nissin, Hisanori Sugioka (sixth from the left), president of Nissin.
At the exhibition, the Hytera booth captured immense attention with the new-generation intrinsically safe Digital Mobile Radios (DMR), HP708 UL913 and HP788 UL913. These radios have undergone rigorous testing to meet strict safety requirements for preventing any potential ignition or explosion through during operation even in potentially explosive scenarios. With advanced features such as AI noise cancellation, IP68 waterproof rating, and MIL-STD-810G standard durability, these radios are ideal for professionals working in challenging environments, including those in the oil and gas, fire and rescue, mining, and airport sectors; users are able to focus on fulfilling their task as a team without caring about the communications and the device itself.


INCHEM TOKYO 2023 is a comprehensive engineering exhibition that brings together professionals, experts, and industry leaders from various sectors related to chemicals, process industries, and manufacturing. Hytera's partnership with General Trading Japan and Nissin brought to the show a diverse selection of solutions tailor-made for industries operating in potentially hazardous environments.
Mr. Yoshiharu Saitou, Director of Nissin, praised Hytera's contributions in raising the bar of intrinsically safe two-way radios and said: "Hytera is bringing sweeping upgrades to a sector that requires a high level of expertise and knowledge through their latest offerings. Their high-reliability wireless communication products are proving to be essential for the chemical industry, and we're really pleased with their performance. We look forward to seeing the practical benefits of this latest line at our customers' sites."
Hytera keeps developing communication solutions that answer pain points that a variety of industries suffer from. The releasing of new models demonstrates a renewed commitment to sectors that operate in some of the world's riskiest environments. The HP708 UL913 and HP788 UL913 DMR intrinsically safe radios are now available through General Trading Japan and Nissin.
About Hytera
Hytera Communications Corporation Limited (SZSE: 002583) is a leading global provider of professional communications technologies and solutions. With voice, video and data capabilities, we provide faster, safer, and more versatile connectivity for business and mission critical users. We make the world more efficient and safer by enabling our customers to achieve more in both daily operations and emergency response.