Shenzhen, China - July 19, 2023 - Hytera Communications (SZSE: 002583), a leading global provider of professional communications technologies and solutions, has recently released its latest Ultralight Business Two-way Radio AP32X and BP36X. Its lightweight design and professional PTT (Push-to-Talk) features empower business users to boost efficiency and productivity to new heights. Whether you're indoors or outdoors, the Hytera AP32X and BP36X is your go-to companion for improved communication and streamlined operations.

Wondering how to maintain effective communication in bustling environments like shopping malls, supermarkets, or construction sites? The ultimate solution lies in the AP32X and BP36X business two-way radio. Featuring a powerful 3W speaker with an advanced noise-cancellation algorithm, this radio guarantees crystal-clear audio even amidst noisy surroundings. With an impressive 0.18 μV sensitivity, the AP32X & BP36X ensure seamless communication throughout your workspace, regardless of your location.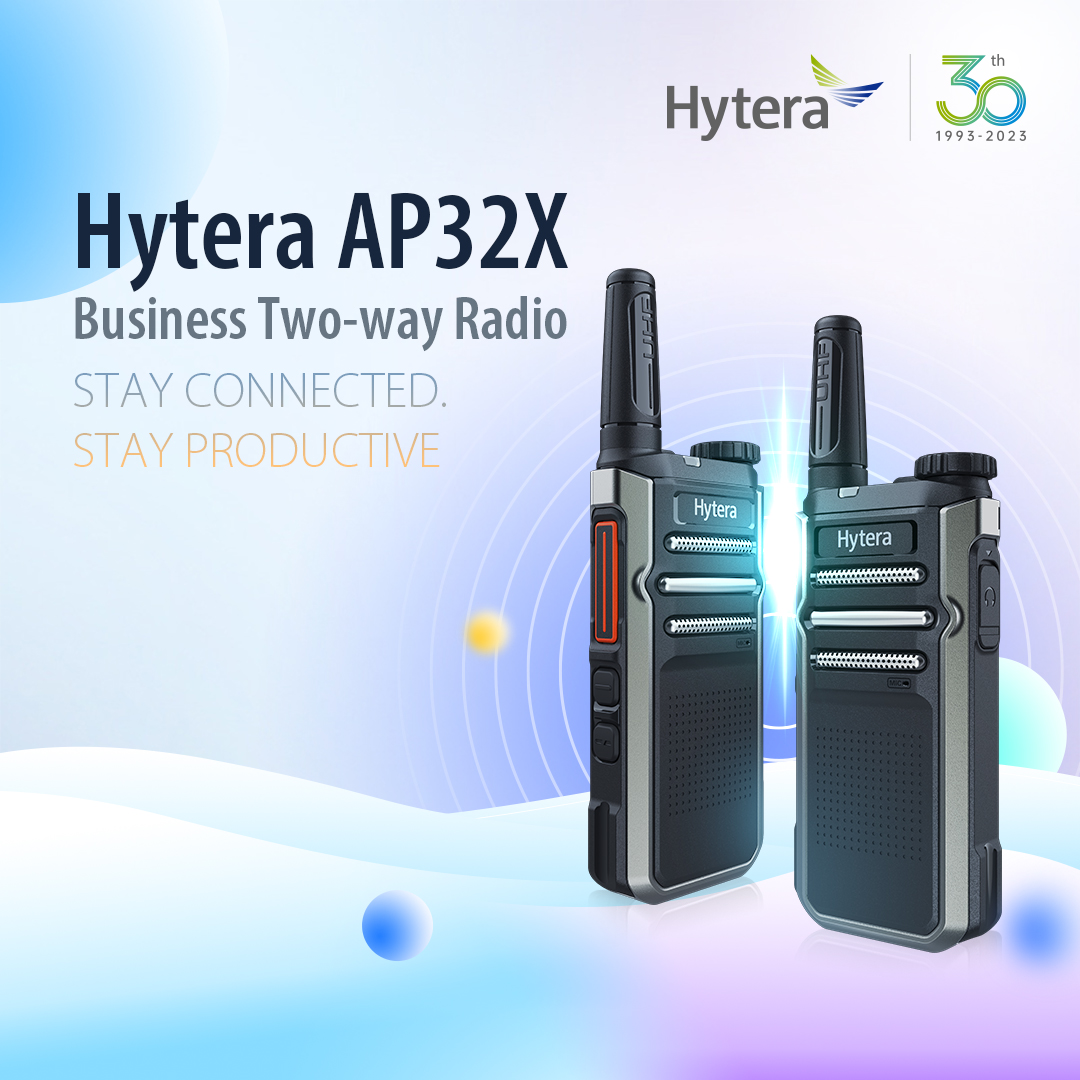 Moreover, you don't need to fret about running out of power during your busy day. The AP32X and BP36X are equipped with a long-lasting 2,200 mAh Li-polymer battery, capable of enduring beyond a 10-hour shift. Charging is a breeze too, taking just 2.5 hours to reach full capacity. In other words, a mere one-hour charging, eight hours of communication. Additionally, you can swiftly program and upgrade the AP32X and BP36X using the convenient Type-C USB port, enabling charging on-the-go with a power bank.
The AP32X and BP36X boast a sleek, slim design complemented by a 4.5 cm ultra-stubby antenna, offering the flexibility to stand, sit, or move around with ease while wearing it around your waist. Not only that, these radios come packed with a range of features to streamline your work process. The addition of voice announcement functionality ensures that essential information like channel names, zones, or battery level is audibly conveyed, eliminating the need to glance at the display for updates. This quick audio feedback keeps you informed at all times. Meanwhile, the Voice Operated Transmit (VOX) feature allows for hands-free communication with the AP32X, as you no longer need to press and hold the PTT key to initiate a call. These convenient and practical features make the AP32X and BP36X an ideal choice, empowering you to carry out your tasks effortlessly and efficiently.
For more information about Hytera AP32X and BP36X Ultralight Business Two-way Radio, please visit: https://www.hytera.com/en/home.html
About Hytera
Hytera Communications Corporation Limited (SZSE: 002583) is a leading global provider of professional communications technologies and solutions. With voice, video, and data capabilities, we provide faster, safer, and more versatile connectivity for business and mission-critical users. We make the world more efficient and safer by enabling our customers to achieve more in both daily operations and emergency response.