Seoul, Republic of Korea - September 2, 2022 – Hytera Communications (SZSE: 002583), a leading global provider of professional communications technologies and solutions, participated in the International Fire & Safety Expo Korea 2022 held at EXCO in Daegu for three consecutive days starting from August 31. During the event, Hytera introduced to the visitors its latest fire safety solutions featuring next-generation digital radios, the H series, and a full lineup of body-worn cameras.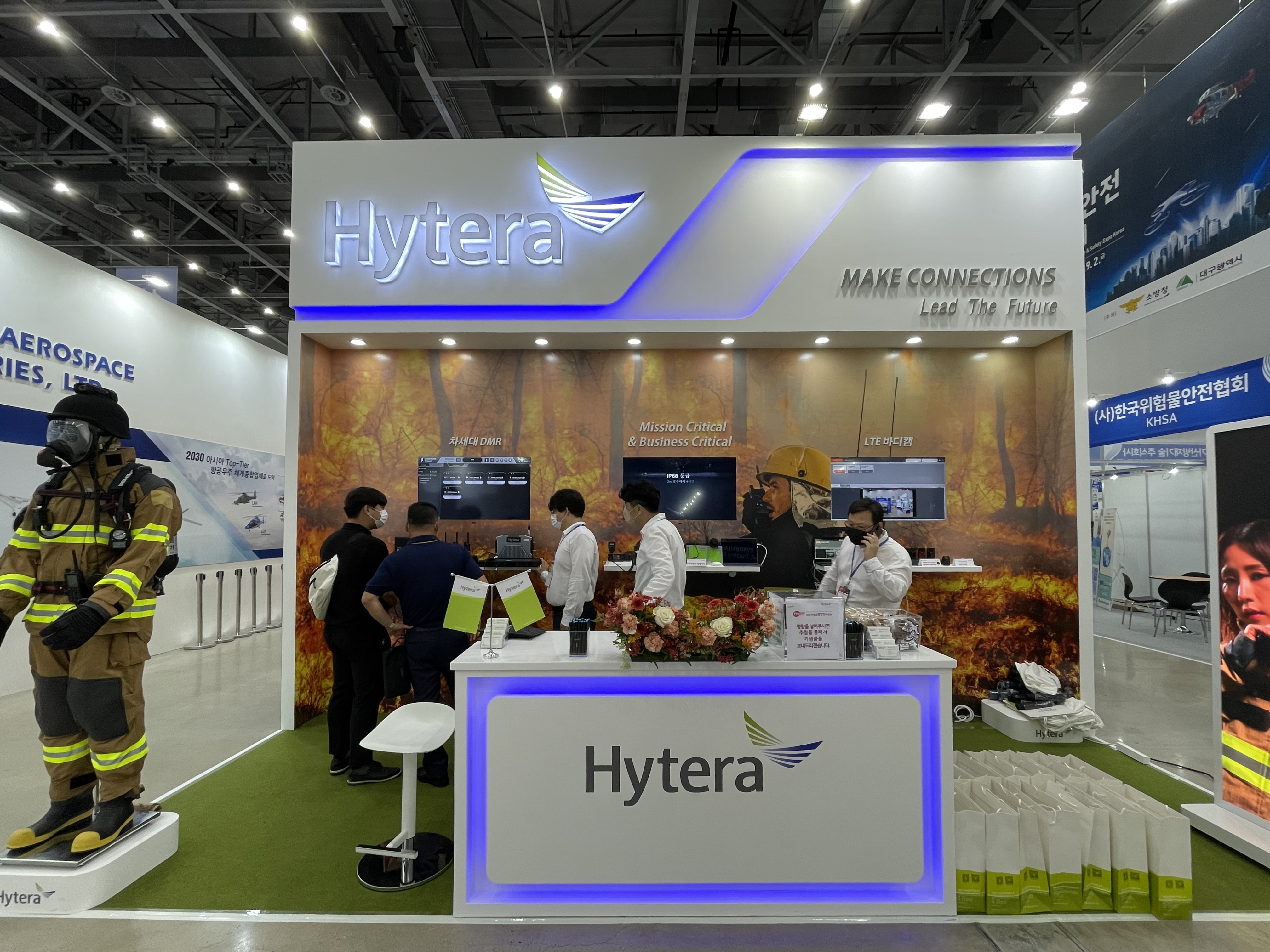 Hytera booth at the International Fire & Safety Expo Korea 2022
The International Fire Safety Expo Korea, which celebrated its 18th anniversary this year, is the only exhibition dedicated to the fire safety industry in Korea. The event brings together the most advanced technologies in firefighting, rescue and first aid, safety and security industries. This year, 357 companies from 27 countries joined the grand industry gathering.
Hytera's stand showcased a variety of communications solutions that aim to facilitate smooth and safe communication for security and safety organizations operating in different capacities.
With a slim and sleek design, the Hytera HP78X portable radio was one of the most eye-catching presences at the expo. In addition, the all-in-one VM780 LTE body-worn camera also drew immense attention of the visitors.
The HP78X is a DMR two-way radio optimal for mission-critical and business-critical missions. With an IP68 rating, it is resistant to water jets and can be submerged for 4 hours at a depth of 2 meters. It adopts advanced water porting technology to drain water from the speaker cavity to maintain audio clarity. It also features anti-magnetic technology to prevent iron powder from sticking to the radio speaker.
Designed to enhance situational awareness in public safety and emergency rescue, the VM780 is capable of capturing, storing, and streaming real-time videos and allows users to communicate with team members via LTE networks.
"As Hytera radios have already been widely adopted by domestic firefighting and disaster control departments, we expect more and more field crews will be able to experience upgraded performance of our latest innovations," said Koh Yu-hwan, Country Manager of Hytera Korea.
About Hytera
Hytera Communications Corporation Limited (SZSE: 002583) is a leading global provider of professional communications technologies and solutions. With voice, video and data capabilities, we provide faster, safer, and more versatile connectivity for business and mission critical users. We make the world more efficient and safer by enabling our customers to achieve more in both daily operations and emergency response. Learn more at https://www.hytera.com/en/home.html.