JOHANNESBURG - May 23, 2022 - Hytera (SZSE: 002583), the global leading provider of professional communications equipment and solutions, announced its participation in the Securex South Africa 2022 that will take place in Johannesburg from May 31 to June 2. With its stand at A07, Hall 2, Hytera will showcase a variety of security communications solutions, including its latest DMR communications solution, body-worn camera solution and push-to-talk over cellular solution.
The Securex South Africa is Africa's leading security and fire expo as it brings together thousands of the continent's security and fire protection professionals across both the public and private sectors. As a key comms solution provider for security industries, Hytera is making further technological advancements for the industry with its security communication solutions that integrate voice, video, data, AI image processing, micro gimbal stabilization, AES-256 encryption, command and dispatch capabilities.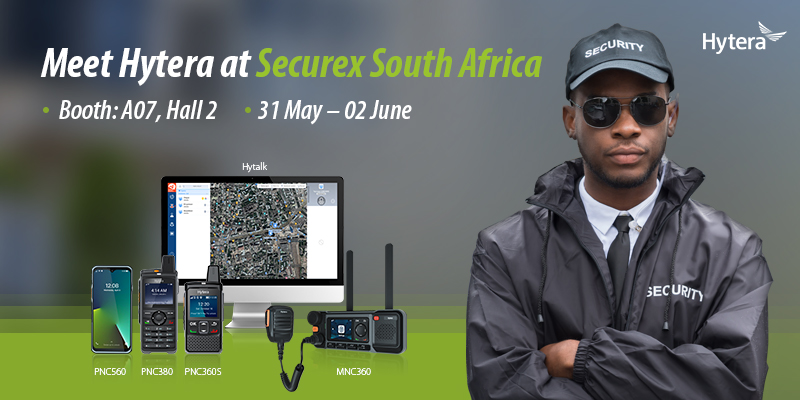 Hytera Body-Worn Camera Solution
During the expo, Hytera VM780, VM750D, VM580D and a set of Hytera body-worn camera software will be exhibited. The cameras are all equipped with multiple powerful sensors to send alerts to the command center. Under 3G/4G/LTE/WLAN networks, users will be able to initiate instant conversations and live stream videos to the command center.
Hytera offers a complete solution from the BWC terminal itself to docking and charging stations as well as a real-time monitor and control platform and a full end-to-end digital evidence management (DEM) system.
Hytera Push-to-Talk Over Cellular Solution
Hytera Push-to-Talk over Cellular (PoC) solution provides two-way radio services over 3G, 4G, 5G and LTE technology, creating a nationwide radio network that utilizes the cellular infrastructure of Mobile Network Operators. This enables organizations that operate across wide distances to set up dedicated communication systems at reduced capital equipment costs, day-to-day operating costs, and eliminates the need for expensive frequency licenses required by private LMR systems.
Visitors to the stand will have a chance to appreciate the latest 5G innovation from Hytera, the PNC560, along with PNC360S, PNC380, MNC360 and the Hytalk platform.
Hytera DMR Communications Solution
Hytera's ground-breaking H Series of DMR terminals integrate the latest advances in hardware and software technology to put ultra-reliable, highly ergonomic radios with greatly enhanced functionality into the hands of critical communications users.
"We are excited that the Securex South Africa is back. During the past two years there's been a lot of technological advancements in Hytera," said Mark Zheng, director of Hytera Southern Africa." The team and I look forward to presenting to industry visitors our latest innovations and solutions."
About Hytera
Hytera Communications Corporation Limited (SZSE: 002583) is a leading global provider of professional communications technologies and solutions. With voice, video and data capabilities, we provide faster, safer, and more versatile connectivity for business and mission critical users. We enable our customers to achieve more in both daily operations and emergency response to make the world more efficient and safer.