(Kuala Lumpur, Malaysia, June 19th, 2019) At the 2019 International Critical Communications Awards (ICCA) held on June 18th in Kuala Lumpur, Malaysia, Hytera received the "Best New LTE or Hybrid Device" of its convergent LTE&TETRA device for more applications – PTC760.
Yelin Jiang, Executive VP at Hytera, receiving the award on behalf of Hytera
Hytera's subsidiary Sepura also won "Best Use of Critical Communications in Transport" for their work with Heathrow Airport, "Best Use of Critical Communications in Other Vertical Markets" for their work with Shell Pulau Bukom, and "Outstanding Contribution to Critical Communications" awarded to Sepura colleague Mark Rayne.
The Hytera PTC760 Multi-mode Advanced Radio is the revolutionary TETRA LTE hybrid device offering the ideal platform for critical voice and broadband data services. Providing a unified communication experience, this feature rich handset with multiple connectivity options is the ideal communication solution for critical situations.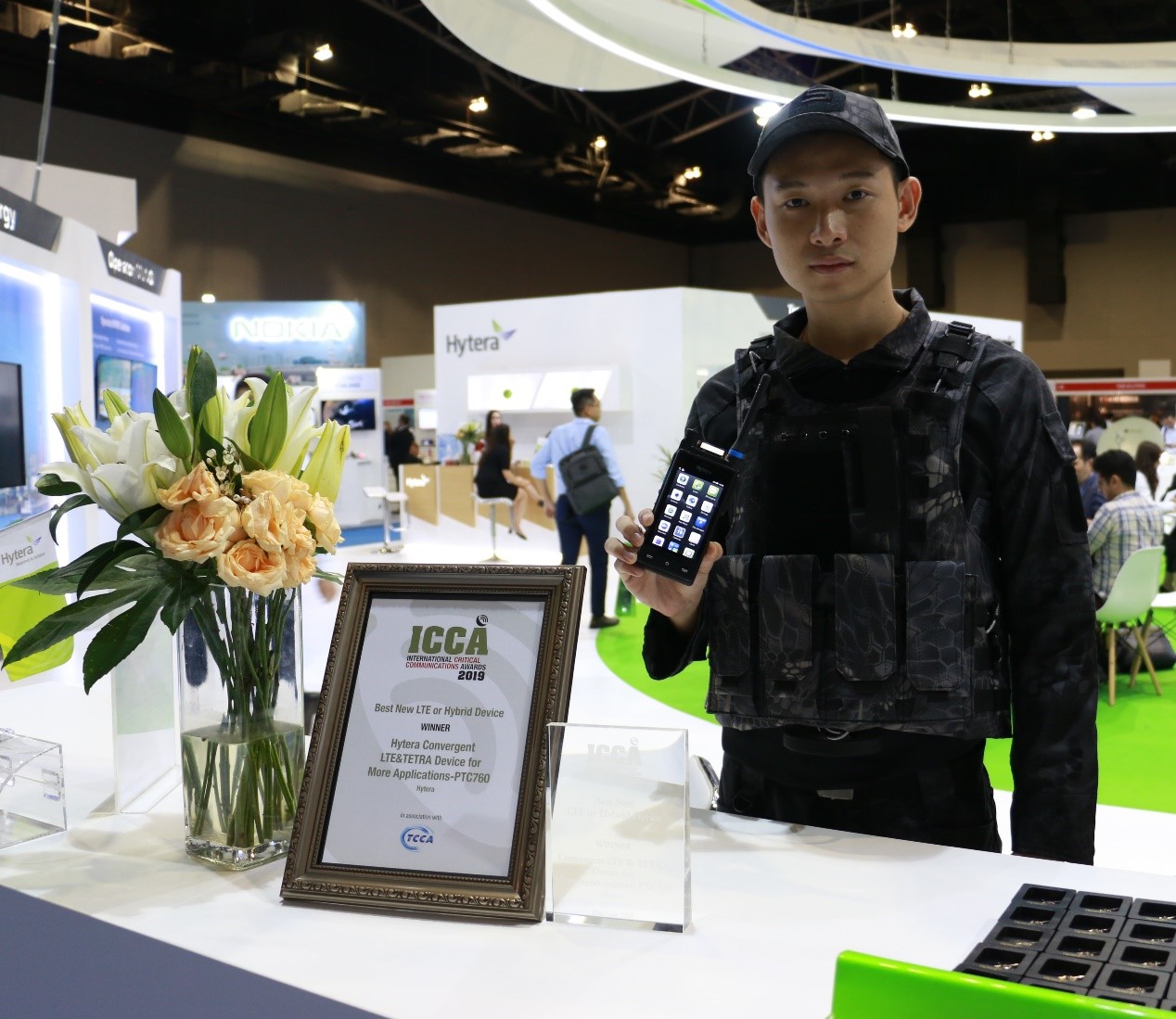 Accepting the award at the ICCA ceremony in Kuala Lumpur, Yelin Jiang, Executive VP at Hytera stated, "It is a great honor for Hytera and subsidiaries to receive these awards in recognition of our relentless efforts in professional communication industry worldwide."
About Hytera
Established in 1993, Hytera is dedicated to provide customized and complete professional and private wireless communications solutions for government and public security, utility, transportation, enterprise & business to improve organizational efficiency and make the world safer. In 2017, Sepura Group PLC (in UK) and its subsidiary Teltronic S.A.U. (in Spain) became a part of Hytera in May, and Norsat International Inc. (in Canada) and its Sinclair Division became part of Hytera in July.