Daegu, Korea- August 30, 2023 - Hytera Communications (SZSE: 002583), a leading global provider of professional communications technologies and solutions, participated in the Fire & Safety Expo held from August 30 to September 1, 2023, in Daegu, Korea, and introduced its latest digital mobile radio (DMR) radios, emergency communications solutions, LTE-enabled body-worn cameras, and satellite communications equipment.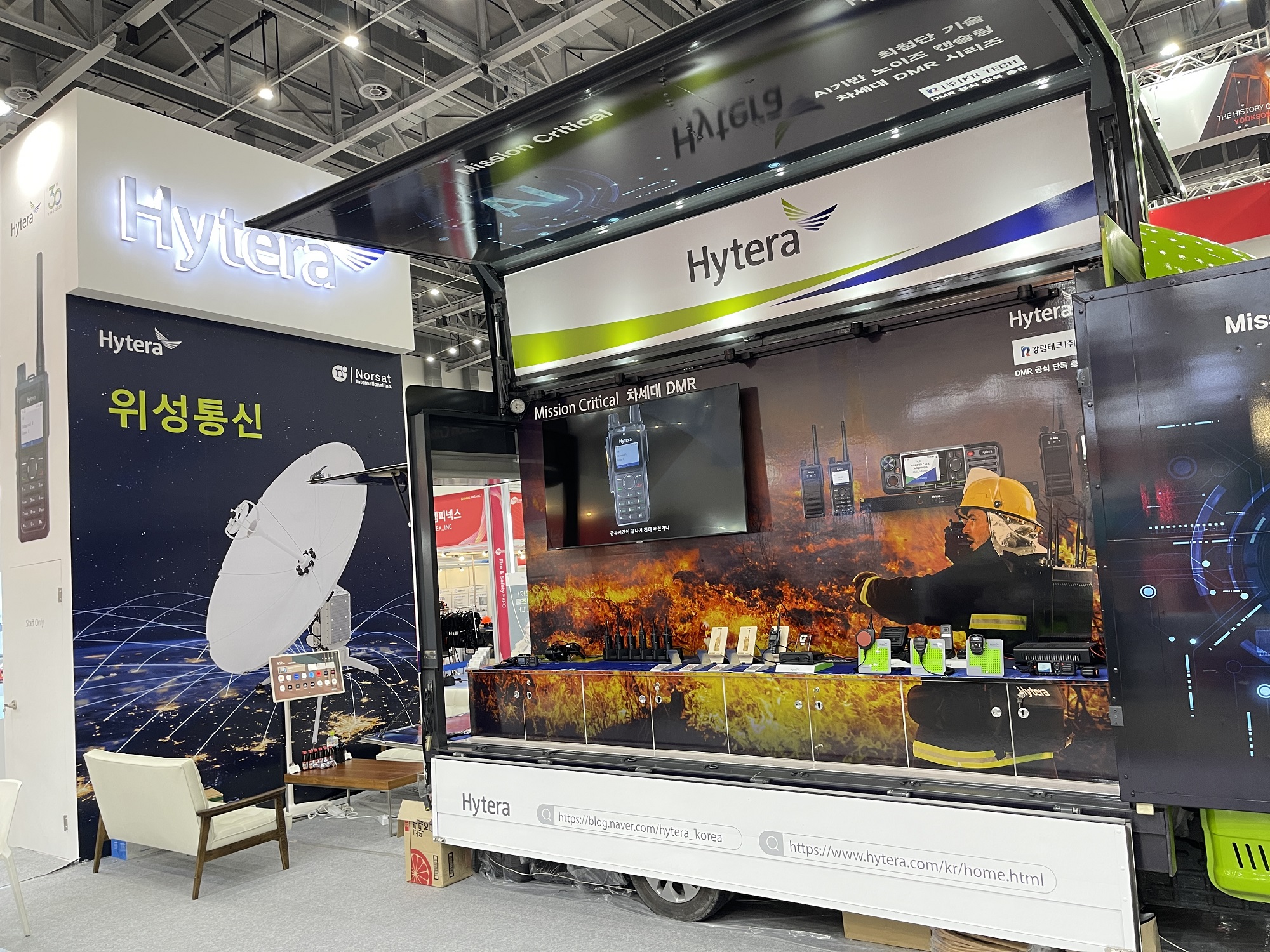 At the expo, Hytera showcased its new generation of DMR two-way radios, the H series, such as HP608 portable radio and HM788 mobile radio. The HP6 model, widely recognized for its slim design and robust performance, offers a long battery life exceeding 20 hours, MIL-STD-810 G standard durability, and an IP67 waterproof rating. It utilizes state-of-the-art AI noise removal technology to maintain high audio clarity in noisy environments. Also featured was the compact HR658 DMR repeater; it is designed to facilitate smooth and reliable voice and data communications; the compact repeater can be installed in various locations without compromising on-site conditions or connectivity.
Hytera's latest range of body cameras, including the VM780, are designed with the safety of first responders as a priority. This LTE-enabled bodycam, optimized for emergency services, can make video calls and stream videos in real time, providing a crucial tool for capturing and sharing voice, video, and image evidence during critical missions. Its functionality finds applications not just in emergency services but also in fields like construction and heavy industry.
Information security is the top agenda for Hytera and the industries it operates in. There is a multi-layer mechanism in place to ensure the integrity of captured video and data. For example, the body camera can be configured so that data can be read only from a dedicated PC designated by the user.
"Hytera offers a wide range of high-reliability wireless communication equipment necessary for rapid response in firefighting and safety sectors," Goh Yoo-hwan, Sales Director of Hytera South Korea, commented on Hytera's effort in the emergency response sectors. "With our latest digital two-way radios, the firefighters are able to leverage some of the most advanced communications technologies to quickly assess and respond to emergency situations. Moreover, footage captured by Hytera body-worn cameras can be used for incident review, training, and investigations."
About Hytera
Hytera Communications Corporation Limited (SZSE: 002583) is a leading global provider of professional communications technologies and solutions. With voice, video and data capabilities, we provide faster, safer, and more versatile connectivity for business and mission critical users. We make the world more efficient and safer by enabling our customers to achieve more in both daily operations and emergency response.