Shenzhen, China - July 31, 2023 – Hytera Communications (SZSE: 002583), a leading global provider of professional communications technologies and solutions, has been recognized as "National Green Supply Chain" by the Industry and Information Technology Bureau of Shenzhen, China. The award ceremony was hosted by the bureau on July 14 to celebrate Hytera and other enterprises for the outstanding dedication to environmental protection and resource conservation.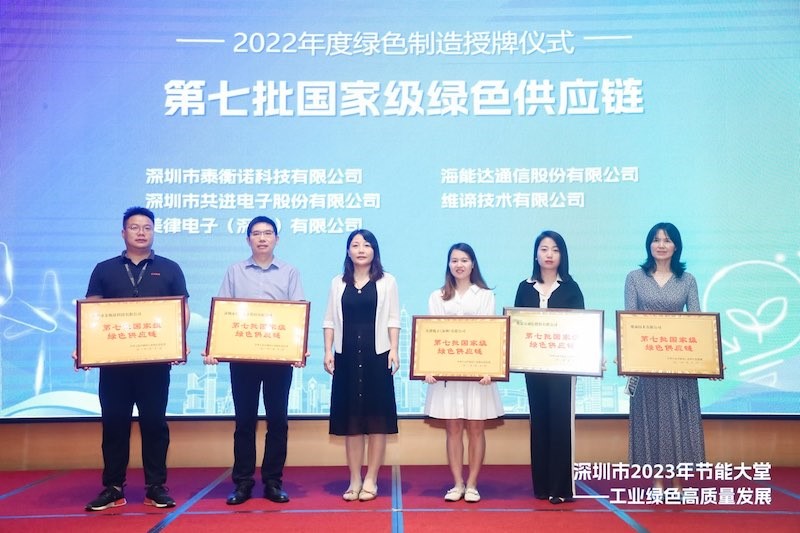 The "National Green Supply Chain" initiative promotes Green Supply Chain Management (GSCM) across different sectors. GSCM integrates sustainable practices into a company's supply chain, spanning from manufacturing to operations to end-of-life management. The goal of supply chain sustainability is to establish a harmonious relationship between economic activities and environmental preservation. It involves reducing the impact of various factors, such as pollutants, deforestation, ozone depletion, and global warming, on the environment.
With worldwide presence, Hytera's green supply chain management strategy is implemented throughout its global supply chain and the product's life cycle, including green supplier management, green production and recycling. Hytera implements stringent measures before the adoption of raw materials, such as rigorous screening of raw material suppliers, third-party testing of materials for compliance with hazardous substance management standards (QC080000), China's RoHS, EU RoHS/REACH regulations, and customer environmental requirements. To further ensure compliance with green product requirements, every product from Hytera undergoes self-declaration through the RoHS self-declaration submission system.
About Hytera
Hytera Communications Corporation Limited (SZSE: 002583) is a leading global provider of professional communications technologies and solutions. With voice, video, and data capabilities, we provide faster, safer, and more versatile connectivity for business and mission-critical users. We make the world more efficient and safer by enabling our customers to achieve more in both daily operations and emergency response.