The Push-to-Talk over Cellular (PoC) radio market has expanded rapidly in the last few years. PoC offers instant PTT communications based on public cellular broadband networks, rather than private narrowband Land Mobile Radio (LMR) systems.
Public cellular networks provide much wider coverage areas (usually nationwide), support rich multimedia broadband data applications and incur no infrastructure costs or radio frequency licensing fees. PoC technology allows you to augment existing private LMR networks or to create new PTT cellular networks.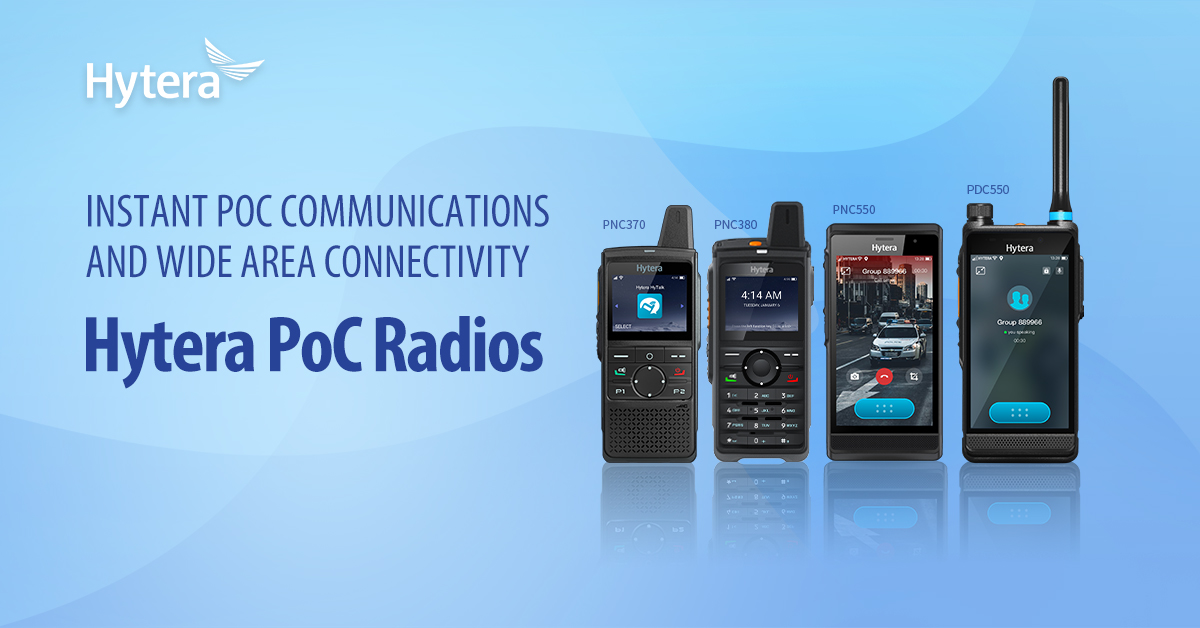 (Hytera PoC Radios)
Hytera PoC solutions assist customers to achieve more possibilities
Click HERE to check more Hytera PoC solutions details.
Hytera has been striving to deliver this innovation ever since it entered the PoC industry. The company has focused intensely on PoC research and development and is committed to driving the industry towards improved technologies, higher quality products and an enhanced professionalism.
It offers end-to-end PoC communication solutions, including high quality PoC radios and innovative PoC platforms. These solutions provide customers with an instant and reliable global communications experience to enhance business operations and boost productivity. Except to optimize these basic functions of PoC communication solutions, Hytera do more for customers.
In order to protect existing narrowband professional mobile radio (PMR) investments, Hytera launched a narrowband and broadband convergence solution. The solution interconnects users of PMR and PoC networks, meaning people can be contacted anywhere and anytime using either technology.
Hytera also provides a suite of solutions to ensure the security of user transmissions when communicating. These security features are not restricted by the type of network standard or method of communication being used and covered areas. They support end-to-end encryption of calls, messages, emails and all kinds of instant messaging tools. The security solutions prevent eavesdropping and stealing of data. They also comprehensively solve any security issues relating to the communication, storage and access of Hytera PoC terminals.
Hytera's PoC terminals can also be used as part of an intelligent inspection system designed to support the activities of security patrol personnel. The system enables intelligent patrol route planning and data collection. After Hytera PoC terminals collect information at each checkpoint along the patrol route, terminals will send location information, event information, scene and alarm information to the management center through the wireless network in real time. Information on the security patrol guard's route can also be recorded automatically, so as to ensure an accurate record, which can be used to verify patrol activities and help deliver more effective management.
The recent outbreak of the COVID-19 pandemic has affected us all. Hytera has released the pandemic prevention solution which integrated fast deployable and non-contact body temperature detection solutions with PoC communication technology to help to fight against the pandemic. The solution can help those who are on the frontlines of battling the pandemic including customs police officers, healthcare workers and enterprise staff, to combat the disease.
Hytera aims to advance the further development of the PoC industry
Hytera, a global leading PMR solution provider, has accumulated a wealth of expertise in product design and quality and in the development of comprehensive end-to-end solutions and advanced PTT technologies. This experience and skill enables Hytera to take a highly innovative approach to PTT.
Hytera has given itself a competitive edge in recent years by continuously investing resources in the development of both private and public network technologies. By developing this formidable strength in different communications technologies, Hytera believes it is better able to meet the current and future demands of its customers.